Love Is the Answer…Who Cares What the Question Is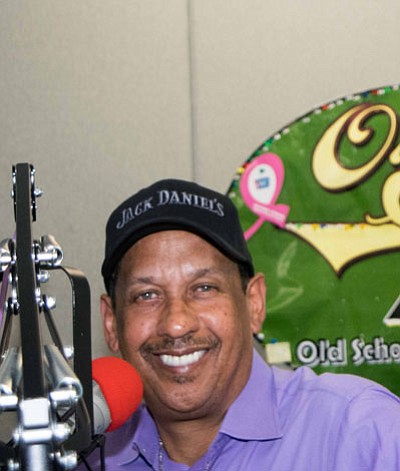 [Subhead] On a Serious Note: Papa Smurf on Stopping Crime and Violence in New Orleans, KMEZ-FM 106.7 and its Connection to Improving the Community
Vigne has been at KMEZ-FM 106.7 Old School, a Cumulus owned radio station, for eight years. Overall, Vigne says he has a great relationship with the company and he loves that it is committed to working on initiatives to improve the community.
"Out in the community we are doing what we can as a radio station to bring the community back together as much as we can and right now it is such a troubling time with all the crime. Sometimes I get on the air and I just rant about the killings and its everyday someone is being killed in the Crescent City," Vigne said.
His tone became more serious and somber as he recounted the death of his late son, Ron Anthony Vigne, in 2002.
"It is so much killing that some become immune and it really doesn't affect you until it hits your home, I lost a kid at 22. My youngest son was killed on the streets of New Orleans and it's been a hard thing to deal with ever since."
Continuing, he has made a plea to the community.
"Put the guns down and start being part of the solutions to crime and violence in our City."
[Subhead]Inside the Life of a Man behind who coined the phrase "Love is the Answer, who Cares what the Question is"
Everybody knows Papa Smurf as the radio guy, but what does he do on his spare time when he's off air?
"Watching TV, listening to music and chilling with family and friends," he said.
When asked how those who know and love him would describe him, his face lit up as he said,
"They would say nice, kind, and generous always looking out for someone else."
"My wife Elaine calls me Jesus sometimes, because if I have something extra I am always trying to find someone to share it with," Vigne joked.
He said his life's meaning is purpose it's ensuring people are happy, and that everybody is getting along.
In closing, I asked him where the phrase 'Love is the answer, who cares what the question is,' developed.
"It was something I came up with one day because everyone had a signature they signed off with and as I was riding around one day and I came up with this and it's been with me the last 40 something years," Vigne said.
Greg "Papa Smurf" Vigne has continued to be a leading voice in a community with many problems and questions about its future. And he, as a pied piper armed with the universal language of music, is bringing people together, spreading the gift of love as the answer. His life is an example of the best of who we are as a people and template for a life well-lived.