National Civil Rights Activists to give Public Lectures at Xavier for Black History
Kynedi Grier | 2/1/2017, 12:28 p.m.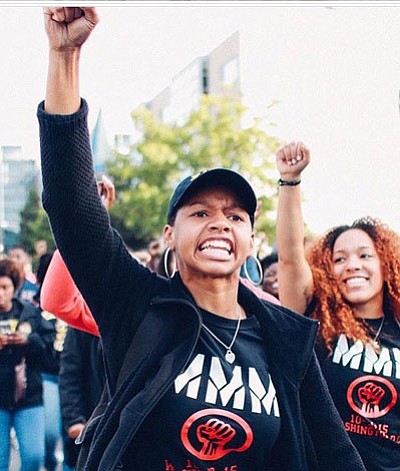 Civil Rights Activist Shaun King will speak as part of Xavier University's Black History Month Speaker Series on Feb. 16, 2017. This event will be held in the University Center's Ballroom at 6 p.m. and is available to the public.
King first became involved with the Black Lives Matter movement following the shootings of Michael Brown and Tamir Rice. King, who contributes to the New York Daily News, The Young Turks, and the Tom Joyner Morning Show uses his social media presence to bring awareness to racial injustices across the country, particularly police brutality in the African-American community. This modern Civil Rights Leader had his own experience with racial violence. He was assaulted in 1995 by White classmates that left him with serious injuries.
"I wanted to bring someone to Xavier that students would like, one that was engaging and one that could connect history to what's happening now in a realistic way," said Amber Davis- Prince, the Director of Campus Activities, on how she chose the speakers for the month-long event.
Along with King, the university will bring Marc Lamont Hill, an Activist and Television Host on February 2nd, and Stevona Elm Rogers, an Author and a Visionary on February 22nd. "With all that's going on nationally in politics and the Black Lives Matter Movement, Xavier students deserve this type of conversation and dialogue," Davis-Prince said.
Social media is a big part of King's activism and a main source on how he gets his messages out. "In many ways, social media is the great equalizer. Social media allows everyone to have a seat at the table," said Sheryl Kennedy Haydel, an Assistant Professor of Mass Communication at Xavier who teaches on social media. King is well-known for his successful use of social media. He has a large presence on today's social media platforms, with over 500,000 followers on Twitter and thousands of other followers on other social media accounts. King constantly tweets or posts updates that go viral, bringing attention to various protests and racially violent acts across the country.
Not only does King bring attention to issues affecting the African-American community, he also examines how politics affects minority groups as well. "Shaun King is someone who has the ear of African-Americans because of his thoughtful and relevant commentary on prevailing racial, political, and socio-economic issues of the day. In addition, he has captured their attention by effectively using social media," Haydel said.
Miss Xavier, Jasmine Merlette who is a senior, psychology major from Alpharetta, Ga. has been involved with the Black Lives Matter movement on both Xavier's campus and nationally. She has participated in many protests including the Million Man March in 2015 and said she is looking forward to King's visit to campus. Merlette believes the Black Lives Matter movement is needed and timely because of the many unheard voices of African Americans that have been overlooked for so many years. She said she always wanted to learn more about the movement to find ways to help the cause. "I am excited to gain some new insight on how to change this unjust system," said Merlette about King's upcoming visit.
Although King's speech is three weeks away Xavier students said his visit would help educate them on the movement that has been a driving force in the African American community, particularly for young people. "His work in the community and his advocacy on behalf of African Americans truly pushes Xavier students towards our mission of promoting a more humane and just society," said Alayna Freeman, the vice president of Xavier's Student Government.