NOLA College Students Experience Culture through Black History Month Event
Tyra Johnson | 2/8/2017, 1:36 p.m.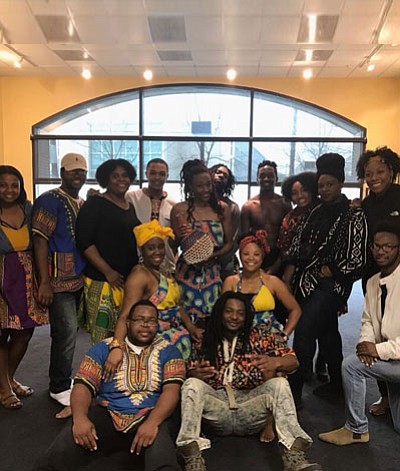 Across the country, college students are observing and participating in Black History Month through campus and community activities, indicating that their generation is just as "Woke" on recent issues of race, as those of their parents. On Feb. 3rd, students at Xavier University of Louisiana gathered in their University Center to watch traditional African dances performed by the Nkiruka Drum and Dance Ensemble, a New Orleans-based community group that performs African Cultural Art Forms. Across town, students at Dillard University learned about Black History through different events on campus held at Lawless Chapel that examined problems and solutions for the Black community.
"In my [African Word Survey] class, we study African history and the real size of Africa," said Brandi Philips, an Urban Studies and Public Policy Major at Dillard University. Students like Philips believe strengthening their knowledge of Africa is important since the continent and its peoples are often portrayed negatively. Students should have no excuse not to get a civic education about Black History given the number of events on campus and in the community, Philips said.
"Black History Month just really gives my generation a chance to learn and honor the Black people that have done so much for America," Philips said. However, some students said 28 days is not long enough to explore the multiple victories of Black people.
"Black History Month is a great first step to recognizing accomplishments of the Black community," said Bria Black, from Memphis, Tenn., and a Political Science Major at Xavier University of Louisiana. "Recognizing Black successes should not end with Black History Month," she said. Black History is rich, she said, so limiting the celebration to one month is unfair.
Students such as Black believe African American contributions should be celebrated every day of the year since these accomplishments are America's backbone.
"The foundation of America was literally built upon the blood, sweat, and tears of black people," Black said. America should alter their perception of black history, because it is not just the history of slavery, but the evolution of the black man from shackles to a suit and tie in the White House, Black added.
Some students said they could not compare their generation's activists to the towering civil rights activists like those of their parents. Dr. Martin Luther King Jr. and Malcolm X led peaceful, but powerful protests that brought about real change, said Shekiel LeBlanc, a liberal arts major at University of Holy Cross on the Westbank in Algiers. However, today's protesters loot and riot, LeBlanc said. He wondered if hundreds of retweets on Twitter is more important than effective changes in the community. Both King and Malcolm X were men of faith, LeBlanc added, keeping the spotlight on faith to solve social injustices is lacking today.
"Those men were not focused on their popularity. They wanted to make things better for the community back then," he said.
Many black students said they look to Barack and Michelle Obama as a living testimony of black power, and this generation's version of King and Malcolm X. The former United States president and first lady, are true, genuine people who fought for the rights of all people, especially the black community, said J. Allyson Lee, a mass communication major at Loyola University in New Orleans. "Barack and Michelle Obama showcase black excellence," she said. "Their whole family show themselves in a positive way. They break the stereotype of black people."
Historically black colleges and universities offer mandatory courses that focus on black history and African American diaspora studies, local students said.
"It is especially important for historically black colleges to encourage their students to attend campus events," Black added, "because it allows students to appreciate black history beyond the classroom."
But students at predominantly white institutions are not left out either. Even majority college campuses offer opportunities for students to learn black history, said Lee, who attends Loyola. "My [Black Student Union] is going to Whitney plantation this month," Lee said. It is vital to know about history since it repeats itself, Lee added.