Tornado Severely Damages New Orleans East Neighborhood
Delaney George | 2/8/2017, 12:44 p.m. | Updated on 2/8/2017, 12:44 p.m.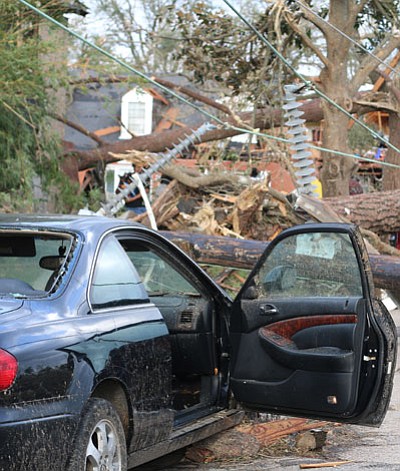 On Feb. 7 2017, a massive tornado hit the City of New Orleans around 10 a.m., damaging several homes in New Orleans East. The area remained under mandatory tornado watch for over six hours.
Chef Menteur highway, a local residential area in New Orleans East was devastated by the tornado. Fallen power lines, roof shingles, and house debris lined the eastside highway from Downman Road to Interstate 510.
That evening, many homeowners paced the streets to only to find their homes in ruins. Many homes and vehicles on and near Chef Menteur highway were damaged by the fallen trees.
Monique Cook, local resident and daughter to the tornado victim said her mother and had been living at her home on Prentiss Drive since 1995.
"I never thought it would hit New Orleans East. The second floor, the roof, the vehicles, the bricks are all gone, everything's severely damaged. I am hoping for the best but I think this will be a long road ahead with rebuilding" said Cook.
Cook described the damaged as severe and unbelievable, saying she hopes for a timely recovery.
Homeowners with minimal damage found debris from across the neighborhood in their front or backyards.
Bernard Merricks, a local resident and victim has been living in the area for five years, said he is blessed and thankful to be alive.
"The damaged to my neighbor's home was very extensive, but mine was minor. I've seen Betsy, I've seen Katrina and none of them top this, with them we knew it was coming" said Merricks.
Visit LaDataNews.com for more photos, videos, and updates on the New Orleans East tornado disaster.