Artists explore black identity through cultural expression in Gomela production.
Kevin Foster | 2/13/2017, 2:17 p.m.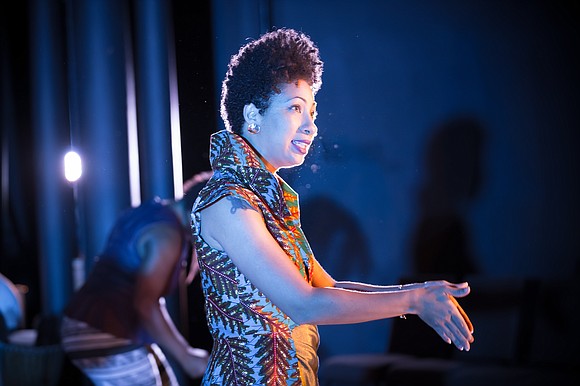 The Ashé Powerhouse Theater filled to capacity as Junebug Productions sold out their final showing of "Gomela/To Return: Movement of Our Mother Tongue," a retelling of contemporary and historic trials facing the African-American community on Jan. 29, 2017. The performance, which featured a religious and social altar to traditional Orisha and blackness, was told through a combination of dance and spoken word pieces focused on police brutality, slave brutalization – cultural staples from African-American daily life and outlooks for the future. "We haven't looked at this as a business model, but far exceeded our expectation. We sold out! So that was exciting," said Stephanie McKee, the director, who along with the show's producer Kiyoko McCrae, were students of the founders of the Free Southern Theatre, who incorporates the arts as a tool for civil rights action.
The show was timely in its critique of marginalization of black peoples. The restriction of people of Muslim faith by a travel ban signed by President Donald Trump hung over the performance. Of the seven countries on the ban, three of them: Lybia, Sudan and Somalia, are on the African continent. McKee, the show's director, explained that at the start of Black History Month, Gomela's place was a creative tool for alternative education and social awareness. The performances, she said were designed to foster unity and understanding, contrasting the current re-racialized political system that fosters discrimination and prejudice.
"This entire campaign has looked at the idea of making America great again but what does that mean?" McKee said. "I'm saddened by the current administration. Adding to the othering of people and pushing people out."
Through these creative works, McKee explained that artists have the space to explore these racial issues. "Often times, we have these conversations about race and class and our white colleagues are challenged by those conversations," McKee said. "They don't feel safe having this conversation. They don't understand that a safe space doesn't equate to a comfortable space. Conversations about race, hatred, and class will make you uncomfortable, but that doesn't mean it's unsafe. Only by talking about it can we gain understanding," she explained.
When the show first started as a moving performance in the streets of New Orleans a few years ago, local hairstylist Selma Alamin said she found its discourse compelling and was excited to see the show again.
"I think being visible and telling stories is going to give our strength back and keep us centered and help us understand how far we evolved," said Alamin. Born to Sudanese parents, Alamin was proud to view a story she felt addresses the intersectionality of being both African-American and Sudanese, which she described as complex due to the tendency of the African diaspora to be viewed as a monolith in America.
"It's actually overwhelming. These shows give us the language to work through it," Alamin said.
The community response to the production's return this year, audience members said, is part of an emerging desire for African-American artists to have primary control in the re-telling of their history through all mediums.