Marc Lamont Hill kicks of black history speaker series at Xavier
Leonard Lewis IV - Photo by Natese Dockery | 2/13/2017, 2:25 p.m.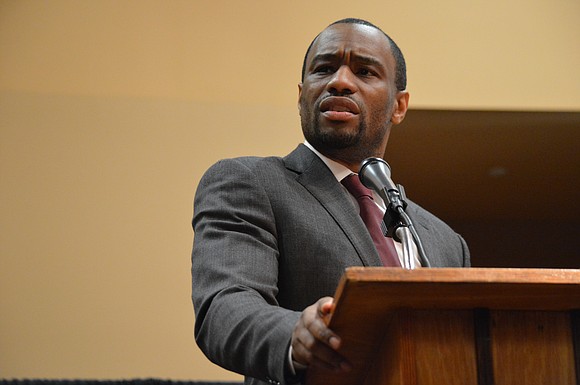 National television host Marc Lamont Hill fired up local students as he spoke on the significance of black history at the first of three public lectures organized by Xavier University for Black History Month. Hill, who contributes to CNN, BET and VH1, spoke to a packed University Center ballroom on Thursday, Feb. 2, 2017 that attracted students and officials from universities across the state, as well as members of the community.
"Release your imagination," Hill told audience members as he called on them to find solutions to the education system, misogyny, and racial issues facing the black community.
While activists have kept up protests in response to President Donald Trump's executive orders, Hill said that even before Trump took office, there were problems needing to be solved. He urged the audience to consider ways to give back to the community, to volunteer to educate young people, and to make sure they showed up to vote in local elections where black voters are often underrepresented. Hill said those were the most powerful ways to respond to the Trump presidency.
"I am a prisoner of hope, not of optimism," Hill told the audience about the changes to come under a Trump presidency. But he urged the audience to consider the issues they can change. Hill said the nation's education system suffers from historical racism, but he believed it was possible for the next generation of civil right leaders to change the status quo. He urged students to get involved in national organizations who are working to change institutional racism.
As people of faith, the black church is a powerful organizing tool, he added. The black community, Hill said, should use faith as a driving force for the good that they do in the community, and not just as a badge of honor.
"Your Christianity isn't keeping track with your humanity," he said, asking the audience to consider the type of faith that leads to real change in society. He cited Howard Thurman's Love Ethics of Jesus as an inspirational work for American civil rights activism. The Morehouse College graduate said the experience of attending a historically black university is one where all these values come together: faith, activism and community. He told students to consider careers that exemplify these values in making a difference for all people.
Xavier will continue its Black History Month public lecture series featuring writer and social media activist Shaun King on Feb. 16 2017 and author and activist Stevona Elm Rogers on Feb. 22, 2017.