GirlTrek Empowers Black Women One Step at a Time
Deja Dennis | 2/15/2017, 3:15 p.m.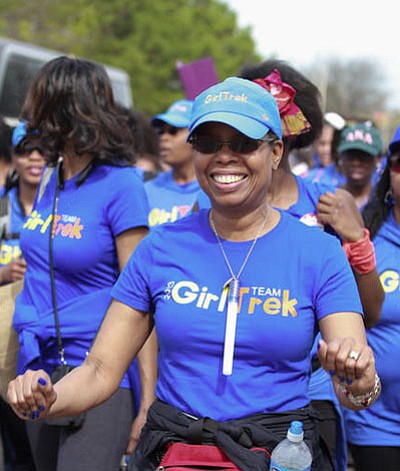 Walking can save the world. This statement is how T. Morgan Dixon, the co-founder of GirlTrek inspired an audience in a Tulane University auditorium on Monday, Feb. 6. She gave a powerful speech on the history and benefits of walking as it informs the mission of GirlTrek, an organization that gets women of color moving.
"When black women walk, things change," Dixon told the audience.
She highlighted influential women like Fannie Lou Hamer, Angela Davis, and Harriet Tubman who "walked herself to freedom" as examples of women with great spirit who inspired change with their feet.
"Great spirit matters," she said because walking to put an end to negative health statistics is just like walking to end social injustices. She told the audience that this was the reason why GirlTrek wasn't just a job for her. It was a mission. With this organization, Dixon said she set out to heal bodies and communities.
She co-founded GirlTrek with Vanessa Garrison in 2012, in Bridgeport, Conn. At first it was a hiking club for middle school girls. Now the organization has grown to become a nationwide solution for the health issues that plague African American women.
"137 black women die every day of heart disease," Dixon said. Walking just 30 minutes a day can have a significant impact on women's health, reducing risk factors of heart disease, diabetes, and other health problems by 50 percent, she explained. GirlTrek was needed to bring about "black girl healing," Dixon told the audience. All across the country, women team up to walk through their communities. One of the main goals of GirlTrek is to promote health and wellness among black women, she added.
It's why Xavier professor Pamela Waldron-Moore got involved with GirlTrek. "I walk to show women and girls that their health is important. It's all about empowerment for us," said Moore who organizes Xavier's GirlTrek group. Moore said she has worked to increase membership by encouraging all female students to participate.
One of the girls recruited was Aja McCoy, 20, a Xavier student and frequent 'girltreker.' "It's very fun to walk with women around the community." Although walking may seem like something small, McCoy said it's worth it in the end because it can reduce health problems and help women monitor what they eat.
Another main goal of GirlTrek is to reach one million members by next year. Right now, they have over 90,000. Onika Jervis, the national director of recruitment and outreach, started the New Orleans chapter in 2014. She worked as a volunteer and took the opportunity to advocate for black women.
"Helping the black community is important to me," she said.
Now Jervis works to mobilize women in different cities getting them to join and support the GirlTrek movement. Cassandra Roumo is the New Orleans city captain and the face of GirlTrek on a local level. "When women are healthier, the community is healthier," she said. There are over 800-plus 'girltrekers' in New Orleans as GirlTrek continues to inspire young women to get involved, Roumo said.
Dixon challenged the audience to think of a problem in their lives and what can be done to overcome it, just as she chose to overcome negative statistics regarding black women's health through GirlTrek. Dixon said she is optimistic about the future of GirlTrek and reaching the goal of one million members by next year.
"Watch us work, and help where you can," Dixon said.