Local Muslim Students Protest Trump Ban
Eugene Cooper | 2/15/2017, 3:09 p.m.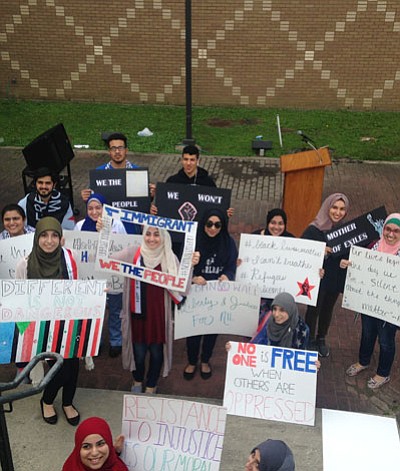 The Xavier University community walked about two miles around Drexel Drive leading the charge against President Donald Trump's ban on people from 7 majority-Muslim nations being allowed into the United States. On Sunday afternoon on Feb. 12, 2017, Xavier's Muslim Student Association joined with Xavier students and faculty and students from other universities who marched.
They carried signs and chanted slogans like: "Say it loud, say it clear, immigrants are welcome here," and "The walls must go, from Palestine to Mexico!" Some wore patriotic colors alongside their Muslim garb, even as they expressed fears about the ban and speaking up.
"We stand together in solidarity with our partners and children for the protection of our rights, our safety, our health and our communities," said Anne McCall, Xavier's Provost and Vice President for Academic Affairs. In support of immigrant students, McCall said the university will be offering free legal services to those who need it. It was the university's mission, she said, to create an open and supportive environment to all students regardless of who was in the Oval Office.
"It's my hope that by showing up people know that they can come to us if they need help on any issues," McCall said at the march.
Prior to the march, students voiced their opinions on the executive order in town hall style speeches. Students expressed disappointment in the president's decision to implement the ban, however most of the remarks remained positive.
Sisters Hana and Farah Alkhafaf grew up in New Orleans but have family of Iraqi origins, one of the 7 banned countries. Hana Alkhafaf, who is currently a Freshman, Biology, Pre-Dental Major at Xavier said she showed up to participate because of her rights to assemble and protest.
"We were given our first amendment right for its very important, and when that right is threatened we all need to come together and stand up for everyone," Hana Alkhafaf said. She said she was pleased to see her fellow Xavier students support Muslim students at the march.
"Both groups have received tremendous amounts of discrimination for a very long time," Hana Alkhafaf said. "If we don't stand in solidarity then we never will."
Her sister Farah, who attends the University of New Orleans agreed.
"Staying quiet makes others think you're accepting what's given to you," Farah Alkafah said.