Zulu Contributes to Crime Stoppers Efforts During Mardi Gras
Kevin Foster | 2/15/2017, 2:49 p.m. | Updated on 2/15/2017, 2:49 p.m.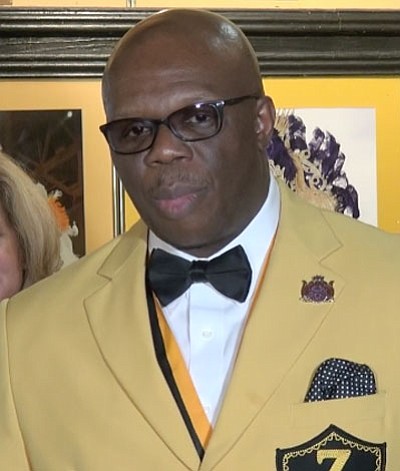 Zulu Social Aid & Pleasure Club announced it will donate funds to support efforts by Crime Stoppers and the New Orleans Police Department to enhance public safety, particularly with the start of the Mardi Gras season and other festivals across the year. Officials with Zulu said at a press conference on Feb. 8th at their Broad Street Headquarters, that portions of the proceeds from poster sales will support this effort.
"We are always looking for wonderful partners like Zulu," said Darlene Cusánza, the Executive Director of Crime Stoppers Greater New Orleans. She added the partnership would extend beyond Mardi Gras with Zulu becoming a part of Crime Stoppers' upcoming outreach initiatives.
This year Zulu's 2017 theme is 'Stop the Violence,' and is reflected in the throws available during the parade as well as the year-round community outreach programs sponsored by the club. Some of Zulu's Mardi Gras poster sales this year will aid Crime Stoppers with advertising costs and informational outreach for tourists who may be unfamiliar or discouraged from visiting New Orleans for parades due to safety concerns.
Naaman Craig Stewart, Zulu's President, echoed Cusánza's sentiments, saying that Zulu reached out to the organization as part of a goal to serve and improve safety in the community. The funds would expand the reach of Crime Stoppers during Mardi Gras, dramatically reducing the potential of violent crimes going unnoticed during parades. For Zulu officials, the need for stronger public safety hit close to home.
"There were several members of us that lost our sons to violence over the years," said Clarence A. Becknell, the Chairman of Zulu's Historian Committee who explained the organizations' decision to get involved in community outreach this year. "We figure that we need to make a statement about it."
Cusánza said Zulu was a natural partner for Crime Stoppers' Peace Conference in April last year. "The role of the peace conference is to give kids an opportunity to have a voice, to talk to leaders about very important issues we're seeing on the streets," Cusánza said.
Zulu's pledge to support public safety efforts is part of wider community-based outreach by City police to ensure a successful and safe Mardi Gras season.
"We'll still be able to cover Mardi Gras sufficiently," said John Thomas, the Deputy Chief for NOPD's Management Service Bureau. "We have ample officers covering the entire City."
He reminded tourists that most incidents at Mardi Gras occur from excessive alcohol consumption, verbal altercations, and other minor infractions that escalate unless officers intervene. With such community donations, more resources will be available to help maintain vigilance over rowdy parade-goers.