Local comedian, personality captivates audience in first play
Delaney George | 2/16/2017, 1:48 p.m.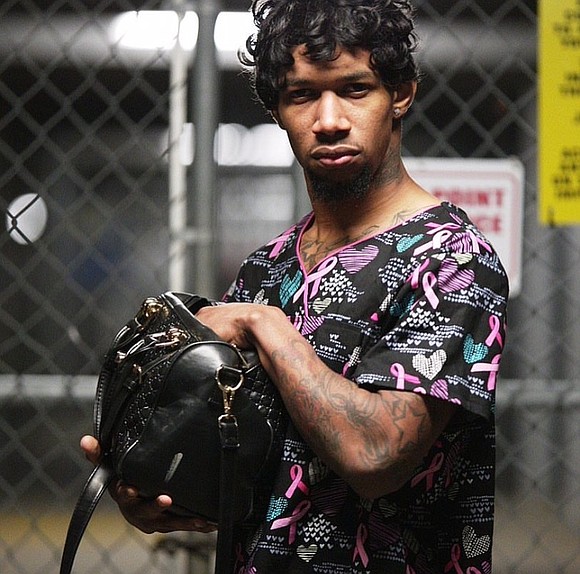 Last weekend, a local community personality captivated a full house during his first live play. On Saturday Feb. 4, local Comedian and Social Media Sensation Donovan Weatherspoon premiered his first live play, Momma's Boy, at the Algiers Auditorium.
The play portrays a story of a young high school student named Floyd, played by Cardell Bradley, who is challenged by his damaged relationship with his mother Danita, played by Weatherspoon.
Before the show, a line of audience members anticipating the play wrapped around the Algiers Auditorium. On that Saturday night, the play had a full house and had to decline admittance to over 150 curious audience members.
"I didn't expect it to have so many people, it is nice to see a local getting that kind of support out here" said Jeremy Triggs, an audience member.
"The play was surely worth the wait, I hope they'll be another showing, it was really an experience to watch, any New Orleanian could relate to several scenes in the play" Triggs added.
Combining comedy, drama, and R-rated content, Weatherspoon's play left the audience in tears of both emotion and laughter: ending with a standing ovation. The play lasted roughly two hours and consisted of 12 main characters: Donovan Weatherspoon, Cardell Bradley, Shonition Jones, Darren Parker, Jared Brisbon, Bruneika Chaney, Jada Tanner, Sedric Mason, Sage Thompson, De'shaun Frye, Emione Ellison, Denzell Hawkins, and Candace Walker.
"I was so excited the day of the play, we all worked so hard and I wanted everyone to see how great Donovan's directing skills were and how much talent the actors had" said Gary Anderson, an extra in Weatherspoon's play.
Working with Weatherspoon working was a blessing, commenting on Weatherspoon's professionalism and energy, he added.
Weatherspoon closed the play with an insightful speech, reflecting on his journey through his first production and thanking all of those as a part of it.
"I remember people telling me 'you're not a comedian, you're not on stage, anybody can get in front of a camera and do 15 second videos', and that stuck with me for so long that I had to do this" said Weatherspoon.
Weatherspoon's next live play of Momma's Boy will be on Mar. 23rd, at Southern University. Visit @2realMacDatFee on Instagram for more information and details on the play.