The Curly Corner
From Poetic Justice to Moesha: Braided Up in the 1990s
Destiny Johnson | 2/22/2017, 1:08 p.m.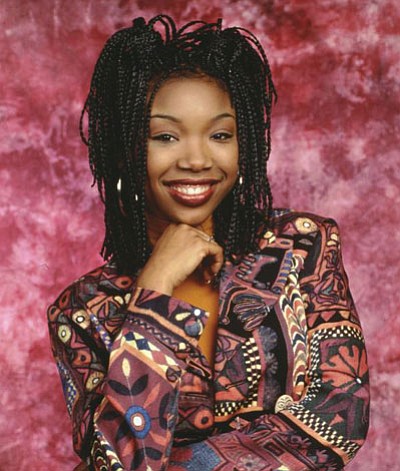 The current natural hair movement is more than just afros, curly 'fros and twist outs. Braids have become a go-to style for thousands of Black women wanting to give their hair a rest from the daily wear of natural styles that require them to wear their hair "out". Braids can come in all colors and lengths to give women a versatile look to highlight their sense of fashion. However, braids have been around for thousands of years and worn by several cultures around the world. The recent braid phenomenon modernizes a trend that began as a celebration of natural Black beauty in the media and beyond in the early 1990s.
Two incredible braid icons include Janet Jackson and Brandy Norwood who helped to popularize the wearing of braids in the 1990s. Braids were considered feminine and fun during a time when perms and weaves dominated the African-American aesthetic. Janet Jackson wore the now infamous "Poetic Justice" braids in a movie with the same title. Chunky, heavy braids, also known as "Box Braids", were now hugely popular within Black communities across the country and the media. Currently, the "Poetic Justice" braids are a social media staple amongst young Black women. Although not as versatile as the wearing braids that are much thinner, they give the wearer more of a hipster, vintage look.
Brandy was famous for promoting the wearing of thinner braid styles that are sometimes called "Individuals". These braids were thinner in volume and allowed one to wear them in a variety of coiffures. These braids could be worn in elegant bridal styles to being easily placed in a bun for comfort.
Brandy Norwood wore several braided styles on the hit sitcom Moesha that aired from 1996 to 2001. She encouraged thousands of Black girls to look glamorous and effortless in braids. While filming Moesha, Brandy's braids were carefree and reflected her budding teenage temperament. In the late-1990s, the toy company Mattel created a doll in Brandy's likeness. This was the first doll to have individual braids instead of the long, straight hair on typical Black Barbie dolls. The long, braided locks could be brushed and styled as any other doll. This was a bold move for a toy company and a fascinating time for little Black girls everywhere.
Brandy Norwood and Janet Jackson were not the only braided icons of the 1990s but they help to set the tone for Black beauty for the rest of the decade. Following their presence in the media, Braids were feminine, attractive and a celebration of West African allure. Natural Black beauty was trending and would continue to make waves in the world of Black beauty for years to come.
Follow me on Instagram @Seekyourcurls