Shaun King Shares his Journey to Fight Injustice using Social Media
Kynedi Grier | 2/22/2017, 12:10 p.m.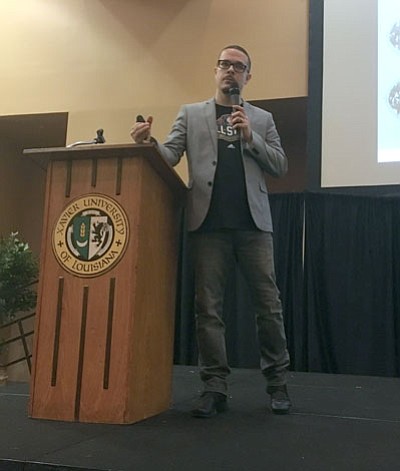 Do you want to be heard or do you want to make a change? This was a question that Civil Rights Activist and Senior Justice Writer for The New York Daily News, Shaun King, asked the audience at Xavier University on Feb. 16, 2017. Shaun King is one of three speakers selected for Xavier's Black History Month Speaker Series that features a new generation of young, Black activists.
"A lot of you know me as just a profile picture on Facebook and Twitter," the social media activist said.
King used humor to inspire the audience at Xavier's University Center about tough subjects like police brutality and this year's election. His lecture attracted people from all around the City from local teachers to Xavier's alumni.
King's large social media presence began when he started to share and speak out about the death of Eric Garner, who died after being placed in a chokehold by an undercover New York police officer in July 2014.
"I'm going to share this video and someone will be held responsible," King said of his first time using social media in this way. King described the increase of police brutality in the United States as an American crisis. Since sharing the video of Garner's death, King's social media presence greatly increased, making him known all over the country for bringing awareness to police brutality.
King shared statistics on the increase of the U.S. prison population, which has the highest incarceration rate in the world. He also spoke on the number of innocent people that have been shot by the police.
"What are you doing? Know that you know you're in 'the dip,'" King asked the audience in reference to the progression of humanity. 'The Dip,' King explained, refers to a decline in civil progression, at a time when humanity should be advancing.
"Why does stuff keep happening that feels like it should be back in time?" King asked. King cited the multiple controversies since the election of President Donald Trump as being part of 'The Dip.' As King explained, one-day, future generations would look at 2017 and compare the way society acts towards minorities to the 1960s, he said.
King encouraged the audience to stay aware of issues currently taking place in America's society. "After hearing [Shaun King's] speech, anybody can be the next person to make a difference and are able to start young," said Jordan Deloch, Xavier's Freshman Class President, after being moved by King's speech.
Along with Deloch, several members of the general student body were motivated by King's talk. "[King] inspired me to stay aware and to take action instead of standing by," said Craiana Cleveland, a Sophomore at Xavier.
Ending his speech, King challenged the audience to get involved to correct the injustices in society. "It's going to take every single one of us to get out of 'The Dip," King said.