Xavier Jazz Band Performs NOLA Jazz in China
Ronald Davis | 2/25/2017, 7:27 p.m.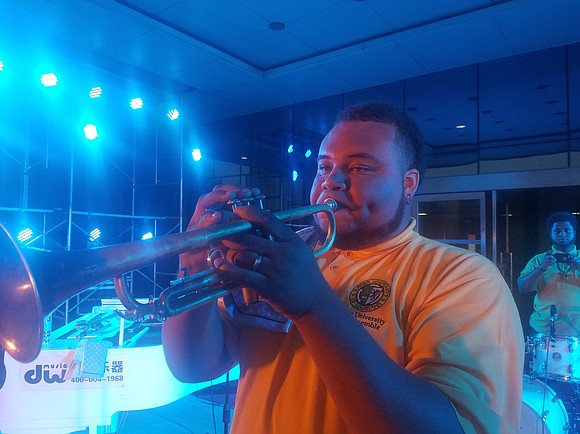 Jazz music is considered to be America's classical music, and like classical music, it is a respected art form that transcends cultural differences. The New Orleans born genre transcends through several cultures and can be appreciated all over the world. That was exactly the response when a delegation of university musicians took New Orleans Jazz to Beijing, China from Sept. 11-18, 2016 for China's Annual Moon Festival.
"It was very interesting, very exciting, and very professional," Lv Yi, the Associate Dean for the College of Art at Hebei University as she listened to "Autumn Leaves" played by Xavier University's Jazz Combo Band under the direction of Timothy Turner, the Head of the Music Department at Xavier.
Xavier is home to one of several Confucius Institutes in the United States, and is the only university with this Chinese Cultural Exchange Institute in the State. The institute sent Xavier students and faculty to China in the past, but this was the first time it sent Xavier's musicians.
Xavier's Jazz Combo performed in Baoding, China at Hebei University and in Beijing, China for the Chinese Moon Festival. The Moon Festival, most often referred to as the Mid-Autumn Day Festival is a Thanksgiving-like national holiday in China.
Even though it was the first time many students at Hebei University heard jazz, they said they enjoyed the complexity of jazz rhythms and improvisation.
"The music and the groove made me feel so comfortable," said one Hebei University student after a performance. His love for the performance moved him to even come to the band directly and present a gift of rice cakes to the Jazz Combo.
One man in particular who enjoyed jazz music was Lianjun Yu, a Flute Master in Baoding, China. Like jazz music is considered a canon in the U.S., Chinese Flute Music is seen as a classical form of music that embodies the history of China
"Because of how it [the flute] is made, I feel a fire in the music and a sadness in the sound," said Yu, describing the flute to Turner during a sit-down session inside of a sacred flute workshop. Both professors said they connected over the complexity and richness of their respective genres.

"Maybe it [the flute] could even be incorporated into Jazz music," said Yu.
Turner said he looks forward to having Yu come to Xavier University in the future to further share the history of the Chinese Flute to students.
"It was interesting to see that we shared quite a bit in spirituality," said Turner when reminiscing Yu's demonstration of the flute. "He understood some of the very same concepts I did. It really makes the phrase 'music is universal' true to me," Turner said.