Jerrelda Sanders Carrying the Torch
Rachel Carrico | 2/27/2017, 2:27 p.m.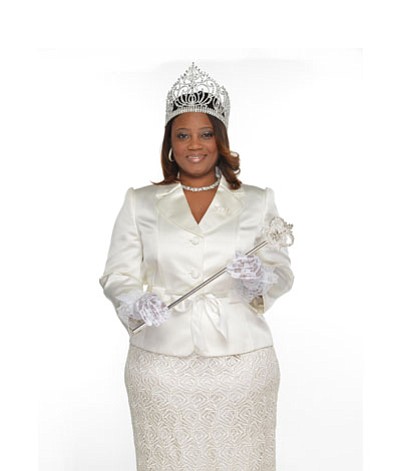 To commemorate its Fifth-Year Anniversary, the Ice Divas Social Aid & Pleasure Club will present its First Queen: Jerrelda Sanders.
This will not be Sanders' first parade with the Ice Divas; in fact, she's a founding member. But on March 12th, she will preside over the procession from atop her float, where she hopes to continue modeling "where hard work and dedication can get you."
Sanders, who takes the term "role model" very seriously, has dedicated her life to service. Readers may recall that Data News Weekly honored her as a Trailblazer in 2012. She belongs to several non-profit and volunteer groups and founded Mother's Helpers Learning Center—which started around her kitchen table—to serve high-needs youth and their families. All the while she continues to advance her education, earning multiple master's degrees and now pursuing a Ph.D. in Behavioral Health.
Not surprisingly, Sanders' introduction to second-lining occurred while working in public service. As a Legislative Aide for City Council, she assisted in issuing second-line permits. At first, "it was a job, but it became a passion." That passion was ignited on June 27, 2005, when Allison "Tootie" Montana, Big Chief of the Yellow Pocohontas, suffered a fatal heart attack while pleading that City Council stop the police harassment of Mardi Gras Indians.
"I was actually in the chambers when Tootie Montana died," Sanders recalls. "He died standing up for something he believed in, which was the freedom of organizations to go out and celebrate and let that culture shine through."
Following Hurricane Katrina, when Sanders witnessed New Orleans' culture threatened in new ways, her appreciation for it grew even deeper. Before long, her mission to serve found a new outlet: one that combines social aid with pleasure.
The Ice Divas Social Aid & Pleasure Club (of which this writer is a member) holds its Crowning Ceremony on March 4, 2017, 6-10 PM at the Chateau Ballroom, 8726 Chef Menteur Highway. Tickets $25.00; Tables $250 (504-421-1025). Their Annual Second-Line Parade will roll with KeepN It Real Social Aid & Pleasure Club on March 12th.