NOMTOC Parade Celebrates Black Beauty
Dimond Hall | 2/27/2017, 2:41 p.m.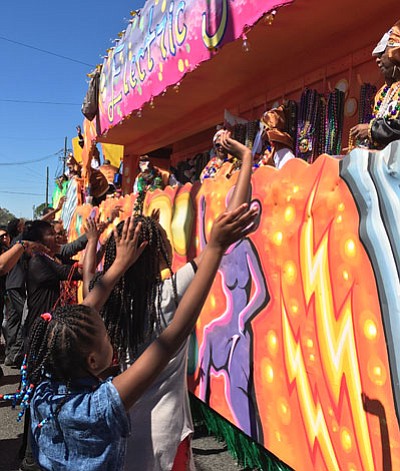 As the only black Krewe in its area, the Krewe of "New Orleans Most Talked About Club," also known as NOMTOC, rolled through the Westbank of Orleans Parish on a sunny Saturday on Feb. 25. While the music was bumping and the Cajun food was sizzling, members said the Krewe of NOMTOC drew one of the biggest crowds in the history of the club.
The club remains a staple since it was started by the Jugs Social Club in 1970, and quickly became a household name throughout the black community in New Orleans. This year's floats celebrated black beauty with the faces of black people of every mix, shade, and style. Predominantly black dance teams and school bands accompanied the Krewe of NOMTOC, as it attracted spectators not looking for the typical Mardi Gras experience.
"This is an inspiration to the black community. We always see white parades flourishing and being talked about but NOMTOC is for us," said Chaz Alexis, a retail store manager in a Westbank mall. "Other than Zulu, we have all black everything and I love it."
Since Zulu features on the Uptown route, residents said NOMTOC is convenient for families across the river. "It also helps that it's on the Westbank," Alexis said. "Everyone out here knows everyone, so parking is always easy."
College students from near and far travelled to New Orleans to experience Mardi Gras day. But some students said they wanted to experience parades outside of the common Uptown route. NOMTOC, the only parade the runs down General Meyer Avenue turns under the Crescent City Connection.
"I came to Mardi Gras with my friend Jason who's from here and always told me about this amazing parade called 'NOMTOC,'" said Kristopher Powell, who attends Texas A&M University - Corpus Christi. "I told him that was one parade I have never heard of being in Texas so I thought 'What the heck? Let's go!'" he said.
The Parade surpassed Powell's expectations, proving to be just as grand as any Uptown parade. "I was honestly shocked with the generosity I experienced during this parade. I danced with strangers, met some beautiful people and was also offered amazing Cajun seafood from people I didn't even know," Powell said. "I will definitely be coming here every year moving forward."
Not only did NOMTOC attract a young crowd, it continued to draw the older crowd back to the city to relive the experiences they had during Mardi Gras season.
"All I know is Mardi Gras. I am 70-years-old and still continue to make my way out to New Orleans just in time to catch this parade," said Patti Matrigold, a retired teacher who now lives in Florida. "With what's going on in today's America, I feel it is so important that we continue to support our black brothers and sisters so they know we are still here and we are stronger than ever."
Her favorite part of the parades is seeing girls of all ages participating in dance teams and representing their schools as majorettes. "I love seeing the young black queens dancing their hearts out. I see me in those girls and I want to be there for those girls now until the day I die," Matrigold said. "Rain or shine, I will always be sitting along this route supporting our people."