Top 6 most Iconic Fur Coat Ensembles
Delaney George | 1/10/2017, 6:18 p.m. | Updated on 1/10/2017, 6:18 p.m.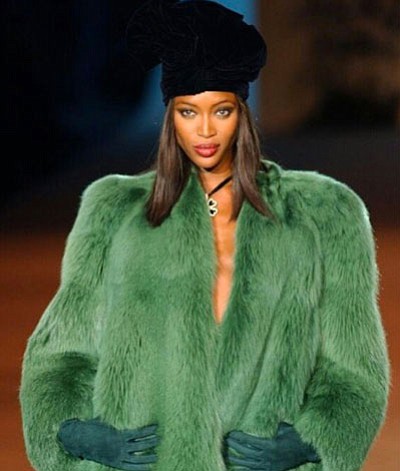 Fur is loved by many for its soft texture, high fashion reputation, and association with high status. Fur has been a trend for as long as cavemen were able to hunt and wore on any part of the body such as bathing suits, hats, scarves, and most commonly coats.
Many public figures have introduced fur in music, fashion, and lifestyle. Below are my top six most iconic fur moments in fashion history.
Migos:
Fur is not just for the ladies. Migos, a celebrity rap trio, recently involved fur in their latest music video. This shoot displayed their interest in the fashion scene while still keeping their focus on music. Migos kept it warm and stylish for their fans covered in multiple multicolored fur garments.
Naomi Campbell:
The legendary Super Model Naomi Campbell is no stranger to the fashion scene. Ms. Campbell made her own debut on the runway decked in an all green fur ensemble. Although they're no animals with green fur, Ms. Campbell made it known that no matter the color fur is accepted in any way shape or form.
Rihanna:
Rihanna is well-known for her outlandish outfits and peculiar choice of wardrobe. The celebrity singer made sure she turned heads when she stepped out in her famous heart shaped fur jacket. The coat was made of fur and in the shape of a heart. It's safe to say, Rihanna set the bar high showing that fur can not only be worn anywhere but morphed into any shape your heart desires.
Khloe Kardashian:
Well- known reality TV Star and PETA Supporter Star Khloe Kardashian is all about the fashion scene but does not condone wearing real fur. To express this belief, Kardashian made a loud but fashionable statement in her "F yo Fur" ensemble. Kardashian walked the New York Streets flashing her fashion sense with faux fur as well as her concern for animals.
Camron:
Former Dipset Member Camron is known for his loud personality and louder antics. In his prime he was one of the only males to wear fur, and pink fur at that. This iconic shot of Camron is still talked about till this day. Wearing an all pink fur coat, paired with an all pink hat and phone to match, this ensemble will definitely be a hard one to ever forget.
Joanne the Scammer:
Last but not least, newly famous Internet Star Bradon also known as "Joanne the Scammer", made an entire career based off his alter ego with a flashy fur coat. This comedian parades around in a white and multi-colored fur coat, channeling his inner character Joanne the Scammer, of whom his fans adore. Who knew that tying comedy and fur in the perfect setting would make instant internet success?