Rep. Richmond Joins CBC Colleagues to Testify Against Sen. Jeff Sessions AG Nomination
1/18/2017, 12:46 p.m. | Updated on 1/18/2017, 12:46 p.m.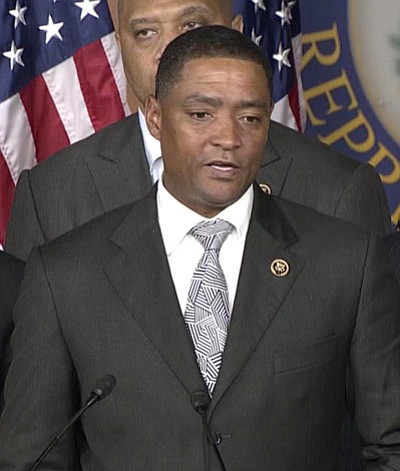 Washington, DC – Today, Congressional Black Caucus (CBC) Chairman, Congressman Cedric Richmond (LA-02), joined his CBC colleagues, Civil Rights Icon Congressman John Lewis (GA-05) and Senator Cory Booker (D-NJ), to testify in the Senate Judiciary Committee in opposition to the nomination of Senator Jeff Sessions (R-AL) for Attorney General.
In his testimony, Congressman Richmond made the case that the confirmation of Sen. Sessions for the top role in the Justice Department would be disproportionately harmful to African-Americans with respect to voting rights and criminal justice reform:
"Jeff Sessions has demonstrated a total disregard for the equal application of justice and protection of the law as it applies to African-Americans and falls short on so many issues," said Rep. Richmond. "If you vote to confirm Senator Sessions, you take ownership of everything he may do or not do in office. He has no track record of fighting for justice for minorities, despite the characterizations you have heard from others today."
Excerpts from the Congressman's testimony can be found below.
"I would like to thank the Chairman and Ranking Member for allowing me to testify. The Senate's duty to provide advice and consent to presidential nominees is a fundamental component of American democracy. I know that you do not take this responsibility lightly. Before I jump into my substantive testimony I want to address two timely issues," Richmond said.
"I want to first express my concerns about being made to testify at the very end of this set of witness panels. To have a Senator, a House Member and a living civil rights legend testify at the end of all this is the equivalent of being made to go to the back of the bus. It is a petty strategy and the record should reflect my consternation at the unprecedented process that brought us here. My record on equality speaks for itself and I don't mind being last, but to have living legend John Lewis handled in such a fashion is beyond the pale and the message sent by this process is duly noted by me, the 49 Members of the Congressional Black Caucus and the 78 million Americans and over 17 million African-Americans that we represent."