As Trump Prepares for Inauguration, NOLA Prepares to Protest
Eric Craig | 1/18/2017, 12:44 p.m. | Updated on 1/18/2017, 12:44 p.m.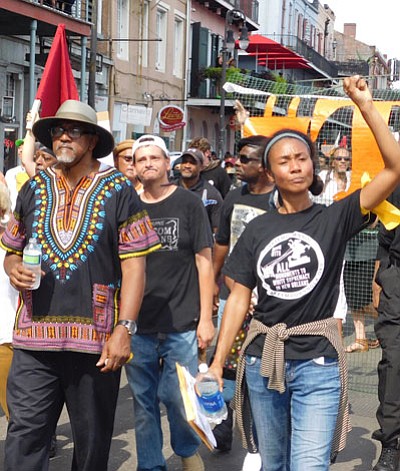 Nearly a week after the Martin Luther King, Jr. Holiday, Donald J. Trump will be sworn in as the nation's 45th President. As the King Holiday promotes service and unity between people throughout the world, the United States will once again stand divided during the presidential ceremony.
The nation's 58th Presidential Inauguration will take place Friday, Jan. 20th in Washington D.C. The ceremony officially begins at 8:30 a.m. Central Time. President-elect Trump will swear into office at 11 a.m. Central Time. The ceremony will be held outside Capitol Hill.
As the nation prepares for its 45th President, some groups will be detesting the change and its accompanying policies. Several organized groups, including two in New Orleans, plan to hold Citywide protest of the inaugural day.
New Orleans Anti-Trump Protest
Take 'Em Down NOLA and New Orleans Workers Group will hold an organized demonstration in front of City Hall, at Duncan Plaza, to denounce policies of the Donald J. Trump Administration, and other policies that infringe of the majority in the nation. The planned protest will convene at 3 p.m. Central Time, and is open to the general public.
The protest organized by Take 'Em Down NOLA and the New Orleans Workers Group will demonstrate against fascism, White supremacy and the rule of billionaires, which, according to protest leaders, are representational of Donald Trump's character and action.
Several other organizations around the nation will be participating in similar protest, using the joint hashtag #J20 on Twitter, Facebook and other social platforms. In New Orleans, Take 'Em Down NOLA and New Orleans Workers Group will use the #J20NOLA hashtag.
This past November, similar but less organized anti-Trump rallies and protest were rampant across New Orleans and other cities across the nation after Donald Trump was named President-elect.

While those protest were not linked to Take 'Em Down NOLA or the New Orleans Worker Group, Malcom Suber, the official spokesperson for both organizations, said these protest are operating under the same general concept.
"People are upset about the Trump victory in November and his administration being inaugurated on Friday," Suber said.
"In the upcoming protest, we are opposing policies that the Trump Administration will support," he added.
Many Republicans in the most recent Care attempting to dismantle the Affordable Care Act, which, in essence, subsidizes expensive health treatments for many Americans, and prevent insurance companies from dropping or raising premiums with individuals with terminal illnesses. Without the act, many Americans would be without Affordable Health Insurance. According to Donald Trump's campaign, he is a supporter of dismantling the legislation.
"Trump is a right-wing supremacist who won by playing the race card and misguiding the general public. He wants to give tax breaks to rich people. His stance on immigration is unacceptable. We're upset at his policies, which makes mobility in this country easier for the rich and harder of the poor," Suber said.
On Friday's protest, demonstrators will not only voice concerns about the incoming Trump Administrations, but about other wrongs conducted by the City, state and nation. Many people, according to Suber, will protest the lack of affordable housing, low wages, and police brutality alongside Trump protestors.