Voices from #J20NOLA: New Orleans Protests Against Donald Trump
Eric Craig | 1/24/2017, 2:30 p.m. | Updated on 1/24/2017, 2:30 p.m.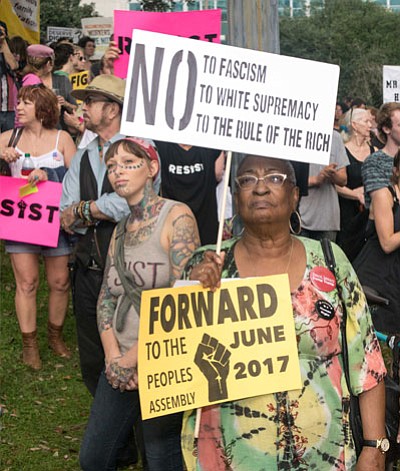 On Friday, January 20th two things happened for New Orleans. Around 11 a.m. Central Time, Donald Trump was inaugurated as the nation's 45th President. Around 3 p.m. that day, hundreds of New Orleanians gathered at Duncan Plaza to voice concerns about the new president.
The #J20NOLA event was a counter-inauguration against the Trump Administration, according to organizers. #J20 protest took place all round the nation, with the hope of uniting the masses to create a strong and reputable resistance against President Trump. The New Orleans #J20 event was sponsored by the New Orleans Workers Group and Take 'Em Down NOLA.
At the counter-inauguration, individuals raised awareness of affordable housing, minimum wage rates, worker's rights, and counter-productive policies planned by the Trump Administration.
One concerned New Orleans resident was weary of Trump's Administration but was invigorated by the protest.
"I'm standing in solidarity with so many other overlooked citizens of the country to send a loud message, saying 'yes you are our president, however we are organizing and coming together on very common binds despite the tenants that separate us," said Tracey Riley, a 24-year veteran in the U.S. Army.
"This message is to you: You're in office, yes, but we are also organizing we are here to lawfully resist and exercise our right to make sure that the government works for us, too," she said.
Other organizers from New Orleans spoke to the demonstrators to encourage them to resist the Trump Administration and voice concerns that affected all people.
"Is this a dream? It feels like a dream. It feels like it's not real…. This is the time we have been waiting for. We have been waiting for the moment where the forces are all the way against us, where we are left with no other choice but to harness the strength of our ancestors, and the knowledge from our worth," said Shana Johnson, on behalf of the BreakOut! which is an organization that fights against the criminalization of LGBTQ Youth in New Orleans.
Johnson said that now is the time to fight for the freedom of all people because not even Trump knows the consequences the nation will endure with him being in office.
Other demonstrators were more direct with their objectives during the protest.
"Let's be honest, who put Trump in the office? White people," on demonstrator said, as the crowd wholeheartedly agreed.
"We, of all people put Trump in, we have to take him out. White people here have to learn from the leadership of our African-American brothers and sisters…Together we will shut Trump down," he added.
Many protestors were concerned with their way of life as Trump officially took the position as the President of the United States. LaToya Henson believed Trump was out to destroy African-Americans.
"He's trying to drop the Medicaid and Affordable Housing Programs. He's not trying to help the poor at all. People have been out on the streets for months, and since he's got into office, he's not going to go anywhere," Henson said.