Women's March in New Orleans Attracts Thousands, Aims to Keep Trump Presidency Accountable
Deja Dennis | 1/24/2017, 2:56 p.m. | Updated on 1/24/2017, 2:56 p.m.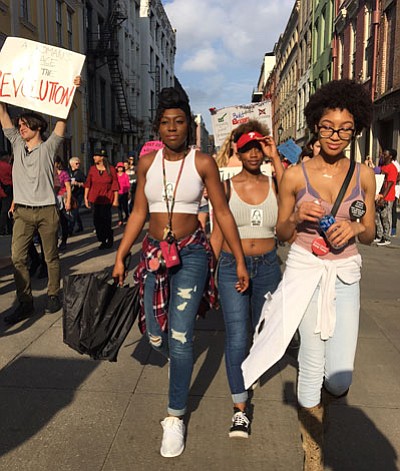 Women, men, and children of all backgrounds gathered at Washington Square Park on Elysian Fields Avenue to protest President Donald J. Trump one day after his inauguration.
"Speak up, stand up, show up," State Rep. Helena Moreno told the crowd of approximately 3,000 people at the beginning of the New Orleans Women's March on Saturday, Jan. 21st around 1 p.m.
Local groups like Women's March New Orleans, Our Revolution, Millennials March, and the National Organization for Women (NOW) in Baton Rouge coordinated the New Orleans March which was geared to mirror women-led marches taking place across the country. Speakers at the start of the march included Angela Adkins the President of NOW, Lawrence Dunn of Our Revolution, State Rep. Helena Moreno, Matt Shoenberger of Millennials March, and Meredith Walker the Co-Founder of Amy Poehler's Smart Girls, among others. The march started on Elysian Fields Avenue, proceeded down Decatur Street, Canal Street, Magazine Street, and continued to Perdido Street ending at Duncan Plaza. There, the crowd heard from Councilwoman LaToya Cantrell and State Sen. Karen Carter Peterson.


Organizers of the event were especially excited about the turnout. Lawrence Dunn of Our Revolution said his organization held rallies in the park before. "We've arranged 3 rallies for Bernie Sanders and filled up about a quarter of the park, but today, this park is full and overflowing," said Dunn, referring to the large crowd.
This is just what Michelle Hanks, a member of Our Revolution, said the organizers wanted to accomplish. "Numbers," she said. "We need numbers." Hanks also said she believes that the way to bring about political and social change is through the law.
The organizers and speakers of the march also hoped to reach out to young people. "Many young people think government won't listen, but only by speaking up and showing up can things be changed," Moreno said of the importance of organizing. She urged marchers to get involved with local government. She told the crowd during her speech that she was "sick and tired of Louisiana ranking as one of the worst states for women." She encouraged citizens to contact their local congressmen and women and let their voices be heard. In response, the crowd repeated her chant: 'Speak up, stand up, show up.'
Several marchers said they were eager to show their opposition to President Trump and their support for minority groups who may be fearful of a Trump administration.
"I was very unhappy with the election," said Gina Minor Allen, 52. "I believe it set Civil Rights back years. My parents and grandparents suffered, and we can't go back."
She did believe however, that the march would send a message to Trump and local government. "There's power in numbers," she said.
Other marchers agreed. Matt Reese, 28, who also participated in the women's march said that he had gathered to stress the importance of being able to publicly disagree with government. He was hoping to reach out to those who didn't vote for Trump.
"We're looking to send a message of hope; that we're all in this together." He said that as a man, he had no excuse not to fight for women's rights. "Half the country is women," he said. "They all deserve a seat at the table."
Passersby and local residents stopped what they were doing to witness the crowd of diverse protesters. The organizers hoped to build solidarity in the community, pledging that this march was the beginning of more demonstrations to come in the next four years.
"Though times may be uncertain, dark, and gloomy," said speaker Matt Shoenberger, "through love, peace, and understanding we can hope to reach our goals."