The world reacts as Donald Trump takes power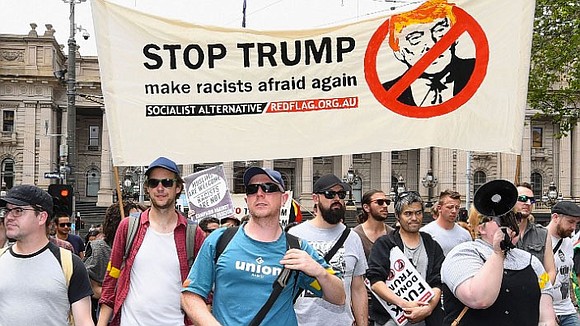 On the streets, in small gatherings and in the halls of government, people around the globe weighed in on US President Donald Trump's inauguration Friday, anticipating how his policies may play out on the international stage. But it was Russia's officials who tweeted some of the most celebratory messages, with one senator calling the day "a defining moment in history."
Here is some of the reaction from around the world, from opposition to support -- and even indifference:
Belgium
A Women's March in Brussels elicited criticism of Trump's offensive comments about women and alleged cases of sexual harassment. The demonstration drew participants from a range of countries, including Norway and Spain.
Katrine Steinfeld, a Norwegian-Hungarian who works for gender equality in Brussels, said she fears that Trump's election will legitimize the ill treatment of women.
"It's crazy that this man can lead a country and assault women," Steinfeld said.
"His behavior creates legitimacy for attitudes that is not appropriate and that is a threat for women," she added.
Rebecca, who did not give her last name, was critical of Trump, but expressed cautiously optimism.
"I came because I don't want Trump to be the new normal," said Rebecca, a Spaniard residing in Brussels. "It's a threat for moral and human rights. I'm not against him. I'm against what he says."
"We need to watch and see what he will do," she added. "I give him credit and I will wait and see, but I fear it would be bad."
Cuba
Cuba's state media paid little attention to Trump's inauguration, perhaps wary of his promises to take a harder line on the communist-run island, CNN's Patrick Oppmann reports.
Granma, the official communist party newspaper, ran articles Friday on birth statistics, the end of the baseball season and a new, experimental strain of cigar tobacco, but made no mention of Trump's swearing-in.
During the presidential campaign, Trump pledged to reverse Obama's historic opening with Cuba if Havana didn't make concessions on human rights and religious freedom. Privately, Cuban officials have said they are waiting to see if Trump's action will match his rhetoric and so far have avoided criticizing him.
China
A wary China watched one of its toughest critics assume the presidency Friday, marking the start of what could be a more contentious bilateral relationship between the world's two largest economies.
Chinese Foreign Ministry spokeswoman Hua Chunying said Friday before Trump was sworn in. Chunying emphasized constructive bilateral relations between the two countries to "propel further development of China-US ties at a new staring point."
"We would like to join hands with the new US administration to uphold the principles of non-confrontation, non-conflict, mutual respect and win-win cooperation," Chunying said.
During his inauguration address, Trump took a populist tone, saying, "We must protect our borders from the ravages of other countries making our products, stealing our companies, and destroying our jobs."
Though he didn't mention China by name, he has vowed to be tougher on the country by renegotiating trade agreements and has even proposed imposing tariffs on Chinese imports.