The world reacts as Donald Trump takes power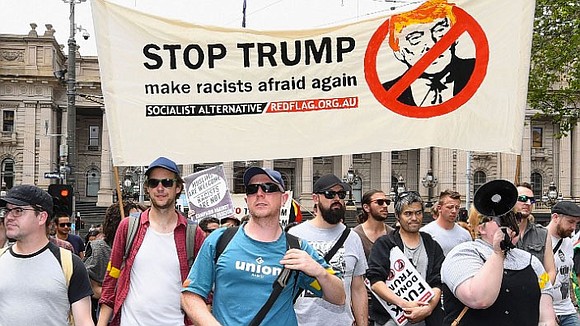 State-run communist media did not shy away from criticizing Trump last year, calling the then-candidate a "clown" and "big-mouthed." But tabloid-style newspaper Global Times wrote in a Friday editorial, "A favorable Sino-US relationship represents great progress in human political civilization, and it is hoped that Trump will consolidate this trend."
India
Trump received a warm congratulations from India's prime minister and minister for information and broadcasting.
"Congratulations president @realDonaldTrump! Looking forward to enhanced Indo US ties. The two are natural allies in fight against terrorism," Minister for Information Rajyavardhan Rathore tweeted.
Iran
Iran fears Trump presidency
Iran fears Trump presidency 02:15
There was little love for Trump at the Grand Mosalla, a complex of religious halls and other facilities in Tehran, as people gathered for their usual fiery Friday prayers, CNN's Fred Pleitgen reports. Instead, they ripped the US for its policies toward Iran and its role in Syria.
"It makes no difference which president is in power," a young man wearing a scarf depicting Iran's Supreme Leader Ayatollah Ali Khamenei told CNN. "Whoever is in power will have that same outlook on Iran, which is a pity."
The main topic on the minds of many of those in attendance was the future of the nuclear agreement between Iran, the US and other nations, aimed at curbing Iran's nuclear ambitions in return for sanctions relief.
Trump has called the agreement a bad deal, and said he wants to renegotiate it. Iran's government has rejected that idea, and Iranian President Hassan Rouhani has insisted that one man cannot repeal the deal or change its terms.
Israel
Even before Trump's inauguration, Prime Minister Benjamin Netanyahu sent him a welcome tweet.
"Congrats to my friend President Trump. Look fwd to working closely with you to make the alliance between Israel&USA stronger than ever."
Netanyahu has made it exceedingly clear that he's ready to work with Trump, especially as the relationship with President Obama deteriorated rapidly in its final weeks, CNN's Oren Liebermann reports.
Israeli leaders are already expecting Trump to follow through on one of his biggest campaign promises -- to move the US Embassy from Tel Aviv to Jerusalem and recognize Jerusalem as the capital of Israel.
Israel's ambassador to the UN, Danny Danon, said shortly after Trump's inauguration: "We look forward to your visit to Jerusalem, the capital of Israel."
Jerusalem's Mayor, Nir Barkat, even launched a campaign just before the inauguration, calling on Trump to move the embassy.
Japan
A woman holds a sign supporting Barack Obama during a Friday march in Tokyo organized by Democrats Abroad of Japan.
A woman holds a sign supporting Barack Obama during a Friday march in Tokyo organized by Democrats Abroad of Japan
Scores of people -- mostly American expatriates, but also a few Japanese citizens -- marched in Tokyo on Friday evening to highlight what they say needs to be fought for during Trump's presidency. The event was organized by the group Democrats Abroad of Japan.
"I just want to make sure that Trump knows that we are here," event organizer Erica Summers said. "Women are not going anywhere. I want to make sure we have our reproductive rights. I want him to know we (women) are equal, and he cannot get rid of us."