NBA Coach Whose Father Was Killed By Extremists Says Ban Muslims Is 'Horrible'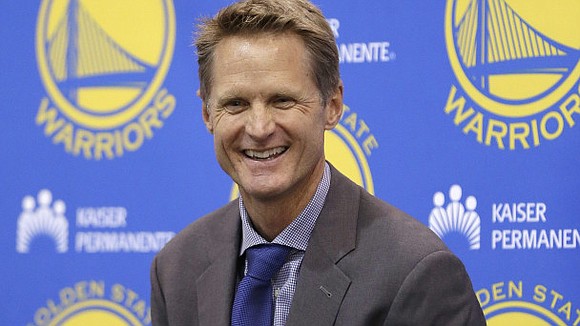 Golden State Warriors' coach Steve Kerr, whose father was killed by members of an Islamist extremist group, said that banning Muslims from entering the U.S. is "a horrible idea."
Kerr said an interview on Sunday that he's "completely against" President Donald Trump's executive order blocking entry by people from seven majority-Muslim countries, signed Friday.
"It's a horrible idea," he said. "I feel for all the people who are affected. Families are being torn apart."
Travelers coming from the Middle East, including some green card holders, were detained and questioned at airports across the U.S. in the days after Trump signed the controversial executive action. The order, part of which has already been blocked by multiple federal judges, also placed a temporary freeze on the Syrian refugee resettlement program.
Kerr's father was the president of the American University in Beirut when he was assassinated in what then-President Ronald Reagan called an "act of terrorists." As a U.S. citizen who spent years in Middle East, Malcolm Kerr dedicated his life to bridging the gap between the Arabic and Western worlds ― a gap that critics have said Trump's executive action will widen.
"If we're trying to combat terrorism by banishing people from coming to this country, we're going against the principles of what our country's about and creating fear," Kerr said. "It's the wrong way to go about it, if anything we could be breeding anger and terror."
He added that, "I worry in the big picture what this means to the security of the world. It's going about it completely opposite."