Protests Over Trump's Executive Order Pause For Moments Of Prayer
Kermit Williams Jr. | 1/30/2017, 11:59 a.m. | Updated on 1/30/2017, 11:59 a.m.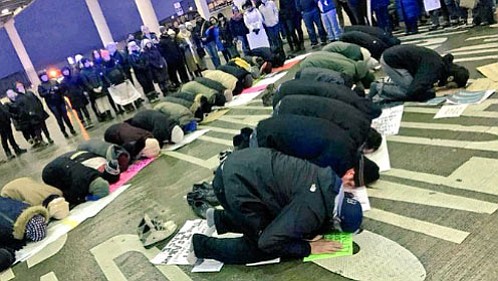 As thousands of people rallied against President Donald Trump's Friday executive order blocking refugees and travelers from several Muslim-majority countries from entering the U.S., they took time out for peace and prayer.
Demonstrators at several of the protests held around the country Sunday paused to join together and pray.
Michigan resident Charles Gaba protested at the Detroit Metropolitan Airport on Sunday because he is "horrified by what's happening," he told The Huffington Post. When he exited the terminal around 6 p.m., he saw about a dozen men praying outside.
"It was a beautiful moment," Gaba said. "The protesters had offered up their signs and scattered them on the grounds to use like prayer rugs."
Protests were held around the country on both Saturday and Sunday, in cities including Boston, New York, Seattle, Chicago, Los Angeles and Washington, D.C.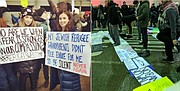 "It was fantastic, a wonderful show of unity and rejection of hatred and bigotry," Gaba said of the Detroit protest. "It sounds like this is going to have to be a regular thing for a while. ... I suspect things are going to have to get worse before they get better."
Trump's order, signed Friday evening, spurred massive backlash and widespread confusion. The order temporarily ends the refugee resettlement program and blocks travelers from several Muslim-majority countries from entering the U.S. It also bars Syrian refugees indefinitely.
Problems with the order emerged quickly as authorities attempted to enforce it, detaining people at airports or refusing to let them enter the country. Court orders issued Saturday temporarily blocked parts of Trump's plan, prohibiting authorities from deporting refugees who had already been cleared to enter the country. On Sunday, the Department of Homeland Security clarified that the order would not bar legal permanent residents, or green card holders, from entering the country ― a major point of confusion with Trump's order.
Trump disputed the idea that implementation of the order had been chaotic, saying Saturday that "it's working out very nicely."