King Cake Festival raises funds while celebrating Mardi Gras pastime.
Dimond Hall | 1/31/2017, 7:38 p.m.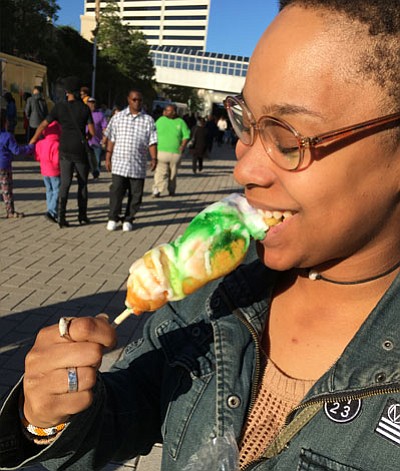 Foodies near and far traveled to New Orleans' Champions Square for a sweet tooth start to the Mardi Gras season. It was the Fourth Annual King Cake Festival put on by Ochsner Hospital for Children on Sunday, Jan. 29 downtown on LaSalle Street. And king cake lovers throughout the country traveled to dig their teeth into the sweet and popular tradition. A group of Ochsner interns wanted to raise funds for the hospital's Neonatal Intensive Care Unit program and launched the festival.
"And so there was a natural fit for the babies and Ochsner Hospital for Children," said Kathleen McCulla, the director of special events at Ochsner Hospital for Children. "Very quickly we reached out to some bakery partners of ours who had been very generous at Ochsner Hospital for Children…and they all kind of circled the troops," she said.
Some 26 bakeries have since participated to help raise funds for the NICU program, up from 17 and McCulla said crowds have grown each year for the event.
"It's been quite large from the inception," McCulla said. "We have gone from 12,000 people to, it looks like today we broke some records so that would be well over 15,000 people for sure," McCulla said.
The increase in festival-goers this year drew visitors from across the country. Zach Miller, an Indianapolis, Ind. resident traveled to New Orleans to attend a seminary but stopped by the King Cake Festival to enjoy the famous treat for the first time. His friend Jared Ennis, a New Orleans, native was in fact encouraged to attend by his out-of-town friend. "My friends dragged me here after church," Ennis said. "I am happy I came. They knew how much I love king cake."
Tasha Jones and her 13-year-old daughter traveled from Houma, La. for her daughter's performance during the Pelicans game and stumbled upon the event. "I've always heard of this but never actually got up and drove the 45 minutes for it," Jones said. "It's so beautiful out here and there's so many varieties. We will definitely come back out here next year."
One of the many hits during the King Cake Festival is the King Cake Burger by the "Food Drunk" food truck. "We had a couple cocktails, some left over king cake, and some burgers. We grind our own meat for burgers and we just thought it would be a nice combination and tried it and it worked," said P.J. Haines, the owner of Food Drunk.
Newcomers to the festival, The Cocoa Bean Bakery & Café, took home awards for both the best traditional as well as most unique for their apple king cake hand pie. "I'm from New Orleans and I have been in Hammond for 10 years and I have always wanted to do it. I finally had a chance to do it this year," said Anthony Delpido, the owner and pastry chef. "It was nice to be a part of this especially with all the bakers I grew up with and it's great to finally join them."