Senate Democrats Boycott Trump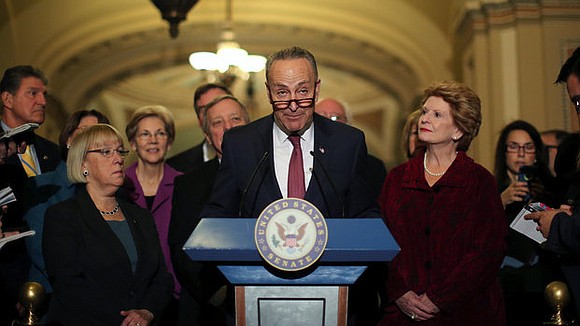 WASHINGTON ― Senate Democrats deployed a dramatic eleventh-hour maneuver to deny committee votes to two of President Donald Trump's Cabinet picks Tuesday, arguing that those nominees had lied to them.
Senators on the Finance Committee were set to vote on Rep. Tom Price (R-Ga.) to lead the Department of Health and Human Services and Steve Mnuchin to lead the Treasury Department. But on Tuesday morning, they simply didn't show up for the votes, denying Republicans the quorum they needed to move forward toward confirmation. At least one Democrat needs to be present for the vote to happen.
Explaining the boycott, Finance Committee ranking member Ron Wyden (D-Ore.) said the two nominees "misled the public and held back important information about their backgrounds."
"Until questions are answered, Democrats believe the committee should not move forward with either nomination. ... This is about getting answers to questions, plain and simple. Ethics laws are not optional, and nominees do not have a right to treat disclosure like a shell game," he added.
With their plans to quickly confirm Trump's nominees upended, Senate Republicans were outraged, suggesting even that they'd consider changing committee rules to eliminate the need for a minority member to be present.
"This is one of the most alarming things I've seen in my 40 years in the U.S. Senate," Finance Committee Chair Orrin Hatch (R-Utah) said in the hearing Tuesday. "There isn't a fellow on the other side I do not care for. Normally they're very honorable and decent people. That's why it's so shocking to me that they're not here when we've given them every opportunity to be here. ... That's not only ridiculous, it's offensive."
"I think they ought to stop posturing and acting like idiots," he added. "Stop holding news conferences and come here and express yourself here and vote one way or the other."
Plans to boycott the hearings were first discussed on Monday evening, senior Democratic aides told The Huffington Post, with committee members expressing frustration over the answers, or lack thereof, they'd received from Mnuchin and Price.
Wyden and Sen. Sherrod Brown (D-Ohio) spoke late into the night about how to organize committee Democrats into action.
Lawmakers felt the two nominees had misled them at various points in the confirmation process and were looking for a leverage point to get additional explanations. On Tuesday morning, the aides said, committee Democrats met in Wyden's office and agreed to go forward with the plan shortly before the hearing was set to begin.
When Price was questioned about his purchase of discounted stock in an Australian biotechnology firm in the Senate Finance Committee, he said the offer to purchase discounted shares was "available to every single individual that was an investor at the time." Company documents and a report by The Wall Street Journal showed that, contrary to Price's statement, only a limited number of U.S. investors in the company were invited to buy the stock at the lowered price. Democrats have asked the Securities and Exchange Commission and the Office of Congressional Ethics to investigate whether Price violated insider trading laws and ethics rules.