Senate Democrats Boycott Trump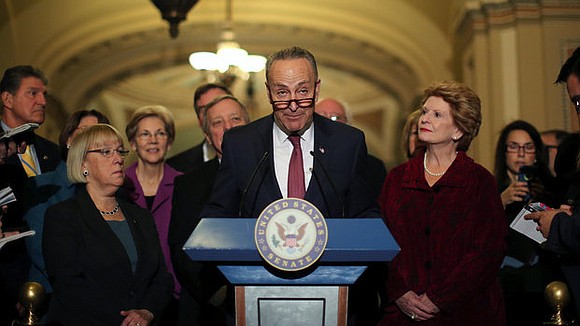 "I asked Congressman Price directly if he got an exclusive discount on stock in an Australian biomedical firm, and he said no," Wyden said Tuesday. "From the committee's investigation to company documents to the company officials' own words, the evidence tells a different story. It looks more and more like Congressman Price got special access to a special deal."
And The Columbus Dispatch reported recently that Mnuchin, who was previously the chief executive of OneWest Bank, "flatly denied in testimony before the Senate Finance Committee that OneWest used 'robo-signing' on mortgage documents. But records show the bank utilized the questionable practice in Ohio."
Brown has said he wants Mnuchin to provide data on how many OneWest foreclosures there were in each state.
"Mnuchin profited off of kicking people out of their homes and then gave false testimony about his bank's abusive practices," Brown said in a statement Tuesday. "He cannot be trusted to make decisions about policies as personal to working Ohioans as their taxes and retirement."
Senate Democrats have been under increased pressure from their base in recent days to be more aggressive in standing up to Trump. So far, every single Democrat has voted for at least one of the president's picks. But going forward, there are more calls for them to oppose every single person Trump tries to get confirmed.
In 2013, Republicans boycotted the committee vote on Gina McCarthy to be head of the Environmental Protection Agency. Sen. Jeff Sessions (R-Ala.), Trump's pick for attorney general, was a member of the committee and part of that boycott.
Brown said his effort wasn't part of some broader political tactic to stop Trump but was centered on his problems with these particular nominees. He conceded that Democrats, being in the minority, can't really hold up the nominees for long. Even though committee rules require at least one Democrat to be there to vote on a nominee, there's no official punishment for breaking those rules.
"[Hatch] can go ahead and vote," Brown said. "But do you want to break the committee rules and force out two people who lied to the committee about something as serious as robo-signings and buying and selling health care stocks as a health care congressman?"
Jennifer Bendery contributed reporting.
This post has been updated with more details on the boycott.