President Trump's Cruel War on Children President, Children's Defense Fund
Marian Wright Edelman | 6/8/2017, 12:20 a.m.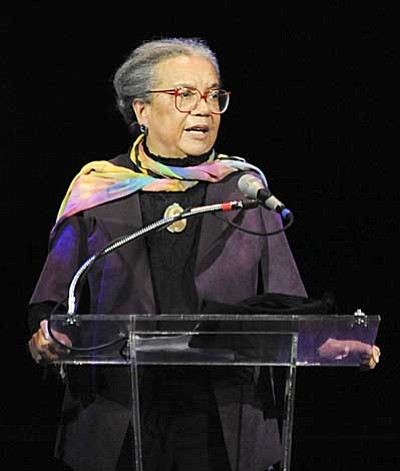 Our nation's budget should reflect our nation's professed values, but President Trump's 2018 Federal Budget, "A New Foundation for America's Greatness," radically does the opposite. This immoral budget declares war on America's children, our most vulnerable group, and the foundation of our nation's current and future economic, military and leadership security. It cruelly dismantles and shreds America's safety net laboriously woven over the past half century to help and give hope to the 14.5 million children struggling today in a sea of poverty, hunger, sickness, mis-education, homelessness and disabilities. It slashes trillions of dollars from health care, nutrition and other critical programs that give poor babies and children a decent foundation in life to assure trillions of dollars in tax cuts for millionaires and billionaires and powerful corporations who do not deserve massive doses of government support.
The cruel Trump budget invests more in our military—already the most costly in the world—but denies vulnerable children and youths the income, health care, food, housing and education supports they need to become strong future soldiers to defend our country. Seventy-one percent of our 17-24 year olds are now ineligible for military service, because of health and education deficits.
President Trump invests in fighting those he sees as outside enemies through weapons and walls and turns his back on the internal enemies that threaten the basic domestic needs of our people—health care, housing, education and jobs that pay living wages. The Congress and the people of the United States must reject President Trump's 2018 Budget and the mean-spirited values it reflects.
The President's 2018 Budget:
• Slashes $610 billion over ten years from Medicaid which nearly 37 million children rely on for a healthy start in life and which pays for nearly half of all births and ensures coverage for 40 percent of our children with special health care needs. The budget also assumes passage of the more than $800 billion additional cuts in Medicaid included in the American Health Care Act for a total Medicaid massacre of more than $1.4 trillion over ten years.

• Rips $5.7 billion from CHIP (Children's Health Insurance Program), which covers nearly 9 million children in working families ineligible for Medicaid.
• Snatches food out of the mouths and stomachs of hungry children by slicing $193 billion over ten years from the Supplemental Nutrition Assistance Program (SNAP), which some still call food stamps. SNAP feeds nearly 46 million people including nearly 20 million children. This cut is an unprecedented 25 percent reduction in a core safety net program that in 2014 lifted 4.7 million people, including 2.1 million children, out of poverty.
• Chops $22 billion over ten years from TANF (Temporary Assistance for Needy Families Program) including $6 billion that eliminates the TANF Contingency Fund which helps support some of our neediest families. Slashes programs to assist families with housing and end homelessness by $7.4 billion, a 15 percent cut for 2018 including $2.3 billion from Housing Choice Vouchers, which would leave more than 250,000 low income households without them; $1.8 billion—nearly 29 percent—from public housing already in desperate need of repair and expansion; and $133 million—5.6 percent—from homeless assistance grants.