Activist Empowers Black Women to Celebrate Daily Victories, Defy The Odds
Tyra Johnson | 3/1/2017, 6:53 p.m.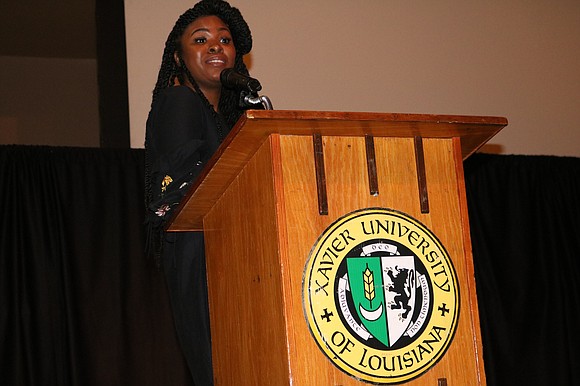 The originator of the phrase 'Black Women Are For Grown Ups' Stevona Elem Rogers wrapped up a three-speaker series of young, up-and-coming black activists at Xavier University for Black History Month. Rogers, who is an author, teacher, and notable black feminist, spoke to students and faculty on Wednesday, Feb. 22, 2017, on the relevancy and importance of black women in society.
In her speech, Rogers examined the quote: "All the women are white, all black are men, but some of us are brave." Whenever women are brought up in conversations, she told the audience, white women are usually the intended topic. And when black people are a topic of discussion, it is often about the black man, she added. But the last group who are not named in the quote, Rogers explained, are in face black women – the ones who are brave. Rogers said it has been black women who have used their voices to fight against dishonor, injustice and stereotypes.
"Black women are for grown-ups," Rogers said. "We are complex," she added. Where the world sees black woman to be weak and vulnerable, a genuine grown would understand what others seem to overlook, she said.
Society generalizes the perception of a black woman to fit into three categories, she told the audience: the mammy, the sapphire, and the jezebel. The 'mammy' dates to slavery when black women worked as mothers in white people's homes, she said. Rogers said the 'sapphire' represents the smart-mouthed black woman with an attitude and an unwelcoming facial expression. A 'jezebel' sexualizes the physique of the black woman as having a large buttocks and heavy breasts, she said. These degrading stereotypes are superficial, she told the audience, and do not exemplify the true identity of black women.
"Don't get pegged into stereotypes. You won't make me a jezebel. You won't make me a mammy. You won't make me a sapphire," she said.
These stereotypes permeate society and media, she added. She used the example of the character Cookie on Fox's television show, Empire, who is played by actress Taraji P. Henson, as well as Beyoncé, and Serena Williams, as examples of women pegged by stereotypes but who defy those stereotypes as well.
"They all represent these stereotypes but they own it," she said. Rogers said that at the 2017 Grammy Awards Show, when Beyoncé was performing, two white girls asked Beyoncé if she could be their mammy. Rogers believed the white girl's words were questionable since Beyoncé has her own family to nurture and she is talented in more areas than simply being a mother. The character Cookie is an example of a sapphire because her attitude and quick comebacks mimic the angry, black woman, she said. Then, Rogers said Serena Williams, a jezebel, is known for her curves, but has no desire to hide her figure. All three figures turn these stereotypes on their head, she said.
But there are strong counter-examples, Rogers said. Former first lady, Michelle Obama, represents all three types of stereotypes, but she does so in a respectable and classy way, Rogers said. "Michelle gives us tidbits about how to be a grown up," Rogers said. Michelle Obama sets a positive example for black women, with radiant energy and a professional reputation.
The stereotypes for black women are unfair, one student said of the speech. "Those three distorted characteristics could classify all people, not just a black woman," said Darian Quarles, a chemistry pre-med major at Xavier. Quarles added that the exaggerated stereotypes are considered negatively only when they are used to describe a black woman, but for women of different races, society finds these characteristics admirable.
The ideal black woman does not have to be an actress, performer, or political figure, Rogers said. In referencing the black poet, Lucille Clifton, Rogers quoted Clifton's poem on the struggles ordinary black women endure in her poem: "Won't you celebrate with me." The average black woman should celebrate every victory, Rogers said, since being black in society is one strike, and being a woman is: strike two.
Rogers paid tribute to the resilience of the black woman by quoting from Clifton's poem, "Everyday something has tried to kill me and has failed," Rogers said.