History of the Black Masking Tradition
Eric Craig | 3/14/2017, 4:02 p.m.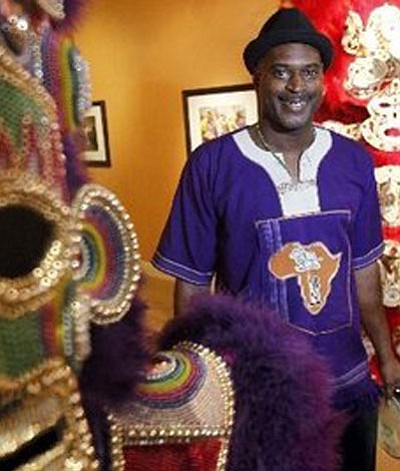 However, as many African slaves began to pay homage to their indigenous heroes, many of the masking traditions began to resemble the styles of those indigenous to the Americas, Zulu said.
The Development of the Mardi Gras Indian
Mardi Gras Indians was a term given by people outside of the tradition because Black Maskers would traditionally parade on Mardi Gras Day, Zulu said. Parading on recognized holiday meant that maskers would not need to go through the difficult process of obtaining a permit from the City, he added.
"Black people use carnival all over the world to practice Africans use traditions and to celebrate. It wasn't until about 40 years ago, Black Masking was turned into Mardi Gras Indians," Zulu said.
Traditionally, after the Black Maskers would take part in their ceremony, they would destroy the suit and begin to work on next year's suit. It wasn't until this became a part of New Orleans Music Culture that this tradition stopped, Zulu said.
The culture stems from the African Tradition of masking, where the wearer of the suit becomes the energy or entity of what he or she masks. "The suit is a temple and you transform into the mask," Zulu said.
The chief said the suits were destroyed to prevent anyone for taking credit for or misusing the culture. You could only mask in the suits once, Zulu said.
Most of all, the Black Masking Culture merged with the New Orleans Culture.
"New Orleans is a Gumbo Culture: a mixture of different cultures." Just because its difference doesn't mean that its better.
It made us the most African City in the United States today, Zulu said