A New Take on Paint and Sip Events
Delaney George | 3/14/2017, 4:13 p.m.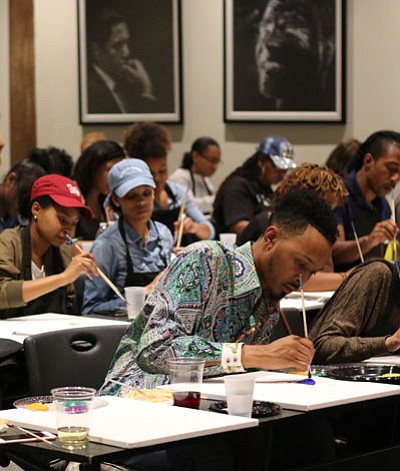 In early March, painting pros and amateurs gathered at Entrepreneur's Row to participate in the Ceaux Young Instructed Paint and Sip.
Hosts of the event, Alexis Miller, a New Orleans Entrepreneur, in collaboration with Abstract Nola, a Creative Consulting and Production Company, came together on the event to bring a different angle to their events and audience that focused directly on art.
"I wanted to produce something highlighting different artists and painters, ultimately getting others to be engaged in their work as well" said Miller.
Co-Founder of Abstract Nola, Antarah Leilani, said Abstract Nola's goal is to provide an array of platforms for artist to showcase, share, and sell their artistry.
"I wanted to partner with Abstract Nola because they're a Premier Brand in the City that works with many artists to provide them with a platform. I knew they would bring the idea to life" said Miller.
Miller and Abstract Nola chose Ceaux Young, a Professional Tattoo Artist and Painter to instruct guests on how to paint a Mardi Gras inspired umbrella and magnolia flower. All 35 guests sat relaxed and prepared to start learning and engaging in art the New Orleans way.
"Ceaux Young is one of the best painters in the City, so it was a huge goal to have him be the first artist of our paint and sip" said Miller.
Many of the events attendees were familiar with Young's work prior to the event, making for an even more engaged crowd. Event attendee and Frenchmen Art Market Director Riyael Curry, had been following Young's work for approximately three years.
"I love his art and his way of storytelling through painting which is why I was honored to be able to attend. Ceaux has a way of capturing the reality of that person in his painting. Nothing is ever just a figure or person on a canvas, it's symbolization for something greater," said Curry.