City to Expand Homeless Services at the Old VA Hospital
Terry Jones | 3/21/2017, 3:31 p.m.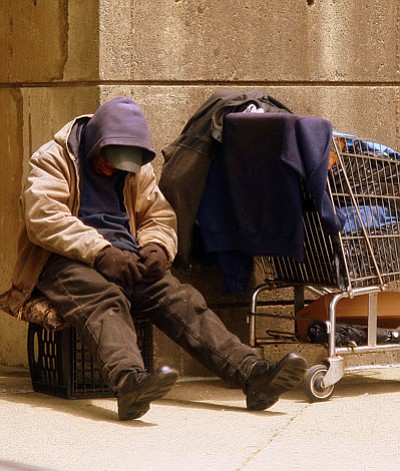 On March 15th, Mayor Mitch Landrieu in partnership with the Downtown Development District (DDD), State and Federal officials and local service providers announced plans to expand Homeless Services at the former Veterans Affairs Hospital located at 1530 Gravier Street. The expansion will include 100 new overnight shelter beds on the floor above the Community Resource and Referral Center (CRRC), which serves as a Homeless Day Shelter. The expanded, comprehensive facility will allow low barriers to entry, including no admission fee or sobriety test, longer length of stay and 24/7 access.
"Today's announcement allows us to deliver on our promise to expand services and reduce barriers that prevent the homeless in our City from accessing care," Mayor Mitch Landrieu said. "Last year, 44 homeless people died on our streets and many more struggle to get the care they need. That is why the City and over 60 Homelessness Service Providers that make up the Continuum of Care are constantly conducting outreach that is making a real difference in lives of our most vulnerable. Together, we have accomplished major reductions in homelessness, and we were able to effectively end Veteran Homelessness. We believe additional overnight shelter beds established directly adjacent to services already available at the Community Resource and Referral Center at the VA can be critical as we seek to connect even more homeless to the necessary services they need to get into stable housing."
Mayor Landrieu continued, "Unlike any other City in America, residents of New Orleans know what it is like to be without a home. After Hurricane Katrina, many who never thought they would ever be homeless were suddenly left with nothing. That's why it is important we all come together to continue to make our City better."
Kurt Weigle, President & CEO of the Downtown Development District, said, "We are all impacted by homelessness in some way, but none more than those faced with living on the streets. To address the homeless problem downtown we need additional services in the downtown area. So, the expansion of low barrier shelter beds at the Community Resource and Referral Center is about more than just emergency housing; it is about creating a front door to a system of care to provide the homeless with permanent homes and the services they need to stay housed."
"I am very happy that New Orleans is making a step forward to encourage the homeless and to help them move into permanent housing. I am really excited for this to come to reality because it is has been something we've been talking about and working on for a while. I just want to thank the Mayor for focusing on this problem," said former homeless resident David Johnson.