History of the Black Masking Tradition Part 2
Harvey Brown | 3/21/2017, 3:01 p.m. | Updated on 3/21/2017, 3:01 p.m.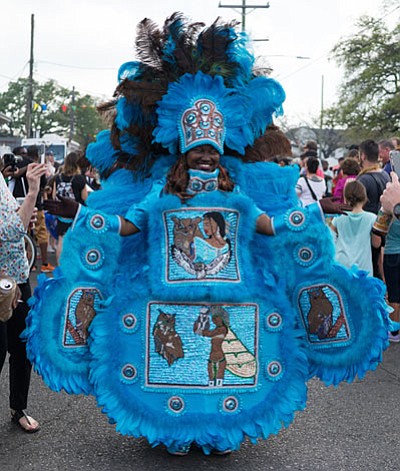 As St. Joseph's Night and Super Sunday have come to an end for the year, it serves as a time to reflect about Mardi Gras Indian Culture.
Last Week, New Orleans Data News Weekly interviewed Chief Shaka Zulu of the Yellow Pocahontas Tribe, who gave an historical account of the history of the Mardi Gras Indian Tradition. In his initial interview, he noted the tradition is a cultural mix between the indigenous people of the Americas and free and captive Blacks. The original Mardi Gras Tradition can be dated back to 1718, according to Zulu.
While Mardi Gras Indian Culture has matured over the years, there has been different stories about the origin of it. While there have been different stories on the Mardi Gras Indians, there is one fact that Zulu said that needs to be clear: The Mardi Gras Indian Culture was created to give homage to the native people of this continent that helped both captive and free Blacks.
The Lasting Impact of the French
There have been several laws that have had an immense impact of Black culture. For instance, In the 18th Century, the French created a set of laws that applied particularly to captive and free Blacks in Louisiana. In fact, New Orleans is recorded to have the largest population of free people of color.
In 1724, the French created a Black code containing 53 articles. In it were two important articles that impacted Blacks.
The first code stated that Africans born on the continent had to be Catholic. The second was that African slaves could not work on Sunday.
On Sundays, Blacks were able to gather at Congo Square. There, Blacks drummed danced and sang, Zulu said. The people did that not for entertainment, for weddings, births, rebellions and arrivals. It wasn't until the U.S. where drum and dance was for entertainment.
The developments of musical instruments, such as drums native to Africa but replicated in the United States, slowly began to transcend with Mardi Gras Indian Culture.
Representation in Neighborhoods
Mardi Gras Indian Tribes each represent a particular New Orleans neighborhood. There is an estimate of over 1,400 maskers, according to Zulu.
"We started these nations and tribes—over forty of them today—and it's a powerful thing. We didn't name them after indigenous nations."
Without making mockery, the Black maskers developed their own names such as the Yellow Pocahontas, Wild Tchoupitoulas and Wild Magnolias to name a few.
"The unique thing about paying homage to a culture, is that it should never be easy," Zulu said. The culture still maintains the requirement of hand sewing and crafting suits for Mardi Gras Day. On average, each suit can take up to a year to make. Zulu believes that part of the reason Black maskers continue to hand sew is to pay homage to African and indigenous traditions.
"Now our style of sewing is going back to understanding why the whole thing started in the first place," Zulu said.
Suits evolve with the information that was received after a period time. As the culture understands its origins and why people mask, the suits evolve.
While there are different reasons behind people mask, Zulu believes that homage should come first.
"We have the right to tell our story in our own words based on the information we have. It's okay to hear one story from one Indian to the next you may hear because there is so many moving components to this culture, where everybody mask for a different reason," Zulu said.
"Nobody is wrong in this case. The only thing we want to clear up is who we're paying homage too, which is the indigenous people who were hear before the transatlantic slave trade."