French Quarter Festival Takes over NOLA April 6-9th
Eric Craig | 3/29/2017, 11:56 a.m.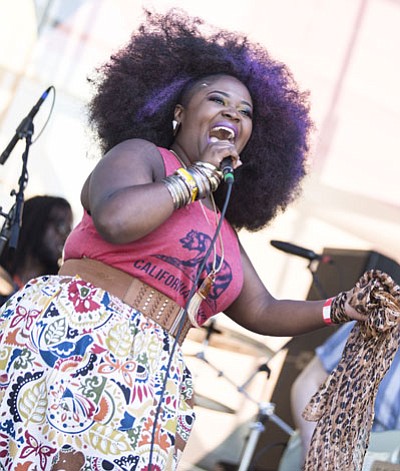 Starting next Thursday, one of the largest Louisiana events, second behind Mardi Gras, will take place in the heart of New Orleans. This April 6-9th, The French Quarter Festival, Inc., will showcase its 34th Annual French Quarter Festival. The year 2017 marks the festival debut of New Orleans-grown Singer, Aaron Neville.
The Festival
The French Quarter Festival presented by Chevron is an annual event organized by the French Quarter Festivals, Inc. For the past 34 years, French Quarter Festival, Inc., uses its stages to promote the City of New Orleans through special events and activities unique to the City's culture.
The annual festival showcases over 1,700 artists and over 60 New Orleans restaurants.
"The French Quarter Festival is considered the local's fest," said Rebecca Sell, the Marketing and Publicity Manager for the French Quarter Festival, Inc.
"We can always expect large crowds with out-of-town audiences, and the fact that the festival is free. But we also feature 1700 Louisiana artist from every genre," she added.
"It's also a great food festival. It's a once and a lifetime opportunity to experience the best of New Orleans for free."
This year, the French Quarter festival will have 20 new acts, including Neville's Debut Performance.
"We expect Aaron Neville to draw a huge crowd. There has been a lot of excitement of social media, and the feedback we have received so far is overwhelming," Sell said.
"Last year we had 760,000 fans attending the festival. We're gearing up for a similar success in 2017," she added.
The French Quarter Festival has stages and vendors located throughout the French Quarter. The festival will kick off with five stages beginning on Thursday, April 6th, including the Jackson Square Stage, located at Jackson Square; The Abita Beer Stage, Tropical Isle Hand Grenade Stage, and the GE Digital Big River Stage, which are all located at Woldenberg Riverfront Park. And the Jack Daniel's Stage, which will be located at 600 Decatur Street this year.
Several other stages will be accessible at the French Market, Louisiana State Museum Old U.S. Mint, 225 Decatur Street, the 300, 600 and 700 blocks of Bourbon Street; the 400, 500, 700 and 1000 blocks of Royal Street; The 600 block and 726 St. Peter Street; 1116 Chartres Street and the Natchez Wharf at Toulouse.
A Zydeco and Cajun Showcase will be held at the Bienville Statue located at 400 Decatur Street (Decatur and Conti Street).
The French Quarter Festival, Inc. has released a free app downloadable from the Apple App Store and the Google Play Store to keep up with scheduled performances.
The French Quarter Festival is free and open to the public.
Arron Neville
Aaron Neville is a highly-acclaimed R&B Singer and Musician with rich Cajun and Creole influences. The artist, originally from New Orleans is also known in his musical act The Neville Brothers, which include his brothers Art, Charles and Cyril.
Neville is known for his hits "Tell It Like It Is," and "Don't Take Away My Heaven," and his cover of "Everybody Plays the Fool," originally by the R&R Group, The Main Ingredients.
Neville will play at the Abita Beer Stage on Thursday, April 6th, beginning at 3:45 p.m. "This is a long, overdue festival debut. Musical Artist Aaron Neville is synonymous with New Orleans. We are thrilled to have him perform, especially since he released his latest album 'Apache' last year," Sell said.
Neville's debut performance is sponsored by local company AOS Interior Environments.
Noted Performances
Other artist performances include Dr. Michael White, Ellis Marsalis, Rebirth Brass Band, Irma Thomas, John Boutte', Tank and the Bangas and Nayo Jones. Up-and-coming musical duo Love Evolution, sponsored by KMEZ Old School 102.9, will perform at the French Quarter Festival at the Topical Isle Stage at 2 p.m.