Delaney's Armoire
Jazz Fest Fashion Recap
Delaney George | 5/10/2017, 9:48 p.m.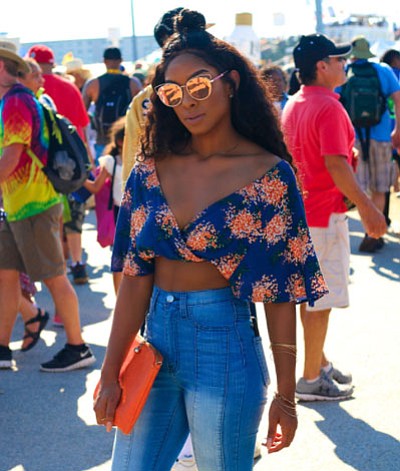 This year at Jazz Fest, people from all walks of life gathered in celebration of food, culture, and music. Jazz Fest is known to many as the place to cut loose and be free. Many of the Jazz Fest attendees spotted on its final day, displayed that sense of joy and freedom in their outrageous festival ensembles.
The fairgrounds flooded with an array of styles from bohemian chic, sexy and sheer, and just down right southern vibrancy. As many stages as there were at Jazz Fest, there was an outfit to match. In Congo square, more high fashion and tribal looks were found verses the more freestyle costume vibe of ensembles found at the Acura stage.
Festival attendee and local model Monique Sanders came for the food and to hear Maze perform, but said she just couldn't resist getting festive for Jazz Fest's final day.
"I had to dress up. I figured a lot of people would be chill and wear boring stuff but this is my first Jazz Fest in so long, why not give them a fashion show?" said Sanders.
Many of the Jazz Fest attendees had the same idea as Sanders, showing more skin than usual and letting their fashion personality do all the talking at the festival. For more photos of the looks found at Jazz Fest visit www.laneslense.pixieset.com/hottestjazzfestfits2017shotbylaneslense or dm@LanesLense on Instagram.