Artists explore black identity through cultural expression in Gomela production.
Kevin Foster | 2/13/2017, 2:17 p.m.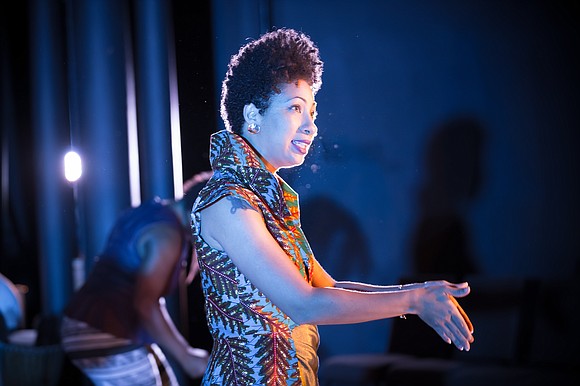 "It's amazing that people of color are taking control and charge of what we want to say with a lens that allows us to be unapologetically honest, genuine and aggressive about our origins, story and the pathway, trajectory and treatment of our stories." said Cameron Weir, a New Orleans native who heard about the show through friends. Weir added that he first thought the show would cater too much to the experience of black New Orleanians, but said he was pleased that the stories were inclusive of wider black experiences.
"Every moment is curated to create a sense of intimidation, remembrance, fear and overwhelming anxiety which is not enough to desensitize but just enough to give a recollection of that feeling, so sickly familiar, that you can't help but laugh at the irony of it all," Weir said of the performances. "It's on time almost instantly classic in a way while being extremely contemporary and inclusive."
Organizers said the show lived up to its mission to make African American-told stories more accessible to the community. "I had chills, then I'm in tears, I'm angry and feeling everything that's going on," said Tuane McKendall, a staff member with Junebug Productions. "The slave undressing was really powerful, being brought to life. To see the dehumanization gets to the core of you. We've become so disconnected that we live in this fake world that we've created. We desire to assimilate. We think we've arrived but we haven't." McKendall said.
Dancer Kai Knight who assumed the role of the Orisha, Oya, added that the show's message is transcendent of the limitations America has placed on recognizing black stories only for black history month.
"It's a powerful introspective piece that reflects on power and strength of women," Knight said of her performance. "It's very personal and it's humbling to realize how many people came before you. But it's not just about bringing attention to the past, it's also the importance and urgency to bring a future we demand. It's not about one month, it's a whole year round effort."
The show's costume designs by Ja'nese Brooks-Galathe and Dana Leon Lima, cleverly hid the velcro and snaps needed to make quick changes possible, under the avant-garde and divine looks expected of African Orisha. Brookes-Galathe said she got involved to help her Afro-Brazilian dance class understand that traditional African wear can be stylish in contemporary settings and shouldn't be shunned for mainstream trends which she said have been criticized as being appropriated from African and African American communities.
"It's very important for us to tell these stories because it's what's going to push us forward," Lima said. We're inspired by the women in our lives and women's bodies. We have to do it for us. We keep evolving. They can never catch up," Brookes-Galathe said.
The show's purpose was wrapped up in poet Sunni Patterson's line "we wanna bring black back. We wanna bring back black." For Patterson, the line was more than a catchphrase. "We want to bring black from the reality that black disappears. Black is shot down in the street on [an] everyday basis," Patterson said. Creative shows like Gomela expands who gets to tell the stories of the African American community.
"Things need to remembered , if we don't we would fall into a state of forgetfulness and believe any story a destroyer will tell us," Patterson said. "To have someone else tell our story is a true death.".